Do you know what ZoomifyApp is?
ZoomifyApp may be promoted as a useful tool; however, it is just another advert-supported program which you should remove from the operating system. If you download the application onto the system, you will discover an onslaught of unpredictable advertisements, surveys and prize giveaways that may be promoted in a misleading manner. If you do not delete ZoomifyApp from the affected browser (e.g., Firefox or Chrome), it is quite possible that sooner or later you will participate in a bogus giveaway, share sensitive information via bogus surveys, visit unreliable sites and install questionable programs that you most likely will need to remove. Do you understand the risks related to this activity? These risks are the reason you should delete the disturbing application.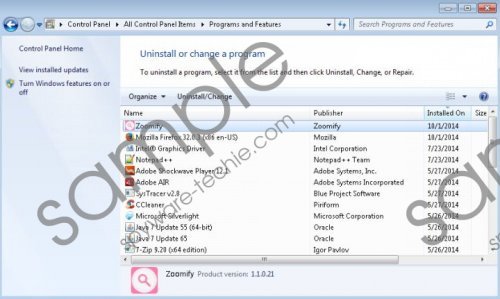 ZoomifyApp screenshot
Scroll down for full removal instructions
There is an official page that offers an official ZoomifyApp download link. Our malware researchers indicate that zoomifyapp.com is a clone of snap.do, which is why it is possible that these disturbing programs have been created by the same people. If you have already downloaded ZoomifyApp onto the PC, the files that you will need to delete to disable adware will be signed by MyViralApp or Jambo Digital Ltd. These are the parties you can blame for the presented Youtubegizmos or Deal Finder advertisements because ZoomifyApp files are set to connect to remote adware servers that will enable the flooding ads. If you remove ZoomifyApp and the suspicious offers keep showing up, it is possible that other ad-supported software (adware) is active. The disruptive extension may be promoted bundled with other programs by third party software distributors. You should remove any undesirable adware or potentially unwanted programs (e.g., RocketTab, YTDownloader) without any hesitation.
Most users will be able to remove ZoomifyApp manually; however, the removal of additionally running threats may be much more complicated and demanding. If you are ready to delete malware from the operating system, you should accept all the help, and automatic malware removal software is certainly most helpful. This software will delete ZoomifyApp associated threats and will ensure that schemers cannot find other security breaches to infiltrate malware or undesirable programs.
Delete ZoomifyApp from Windows
Delete from Windows XP:
Click Start on the Task Bar and select Control Panel.
Move to Add or Remove Programs (opens the Change or Remove Programs list).
Select and Remove the suspicious application.
Delete from Windows Vista and Windows 7:
Navigate to the Task Bar and click the Windows (Start) button on the left.
Select Control Panel and then click Uninstall a program.
Right-click application you want to remove from the system and select Uninstall.
Delete from Windows 8:
Right-click on the Metro UI menu screen to open a new tab at the bottom.
Select All apps, open the Control Panel and then click Uninstall a program.
Now right-click the program you wish to remove from the PC and click Uninstall.
In non-techie terms:
You can install automatic malware removal software to delete ZoomifyApp and other existing threats from the system. The guides below will show how to install reliable security software onto the PC if the advert-supported program and the associated threats have corrupted the system and you cannot run it in a regular manner.