Do you know what Bepabepababy Ransomware is?
Bepabepababy Ransomware might encrypt databases, pictures, videos, and other files that are considered private or valuable. The malware then drops a ransom note saying that users can only restore their files if they purchase a decryptor and unique decryption key. The hackers behind the malicious application urge users to contact them for information on how to pay a ransom as soon as possible. They claim that the promised decryption keys will be available for a limited time only. Truth be told, we do not recommend contacting cybercriminals because there is always a chance that they might scam you. If you keep reading this report, you can learn more about the malicious application in question. We can also offer our removal guide placed below the text that shows how users could erase Bepabepababy Ransomware manually.
One of the things you should know about threats like Bepabepababy Ransomware is how they can enter your system. Our researchers say that one of the most popular ways to distribute ransomware is to send targeted victims malicious links or files via email. Thus, we highly recommend staying cautious when you receive emails from people you do not know well. It would also help if you watched out for fake messages that might seem to be coming from reputable companies. They often have a sense of urgency as they tell users that something terrible could happen if they do not open the attached link or file. You should also keep away from unreliable file-sharing websites as they can distribute various kinds of malicious applications, including ransomware. We also advise scanning all files that come from unreliable sources with a reputable antimalware tool to confirm whether they are malicious or not before opening them.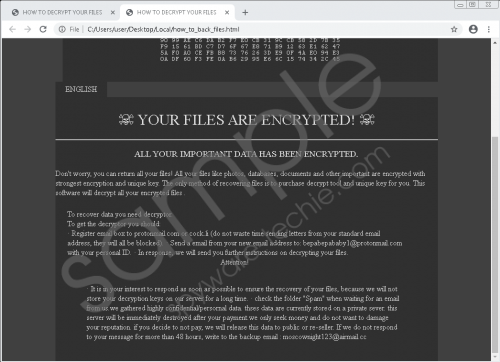 Bepabepababy Ransomware screenshot
Scroll down for full removal instructions
Bepabepababy Ransomware might encrypt various types of files. However, it seems to be targeting only private data. In other words, it should not encrypt files belonging to the operating system or other software on your device. The files that do get encrypted should be marked with a second extension that was made from the threat's developers' email address. For instance, a file named trees.jpg could become trees.jpg.bepabepababy1@protonmail.com once encrypted. After encrypting and marking the affected files in the described manner, Bepabepababy Ransomware should create a ransom note called how_to_back_files.html. If opened, the HTML file should show a message from the malware's creators. It should state that hackers have a decryptor and unique decryption key for each victim. However, they claim that the mentioned keys will be stored for a limited time only, and so hackers urge users to contact them fast and pay ransom to get their decryption tools. Of course, we recommend against putting up with such demands as there are no guarantees that cybercriminals will hold on to their end of the deal.
If you decide you do not want to take any chances, we advise erasing Bepabepababy Ransomware with no hesitation. You can delete it either manually or with a chosen antimalware tool that could remove the malicious application for you. If you want to try to get rid of it manually, you could use the removal guide available below this paragraph. After you delete Bepabepababy Ransomware, it should be safe to transfer your backup copies that you could use to replace the files that were encrypted.
Delete Bepabepababy Ransomware
Restart the computer in Safe Mode with Networking.
Press Windows Key+E.
Navigate to these paths:
%USERPROFILE%\Desktop
%USERPROFILE%\Downloads
%TEMP%
Find the malware's launcher (suspicious recently downloaded file), right-click it, and select Delete.
Find files called how_to_back_files.html, right-click them, and press Delete.
Close File Explorer.
Empty Recycle Bin.
Restart your computer.
In non-techie terms:
Bepabepababy Ransomware is a harmful file-encrypting application. It encrypts files with a robust encryption algorithm to ensure that users could not access them. As you see, encrypted files become unreadable, which means a device can no longer recognize and open them. There are special decryption tools that could restore encrypted files, but only the malware's developers have them, and they demand to pay a ransom in exchange. We recommend against putting up with any demands because there are no guarantees that hackers will hold on to their end of the bargain. If you have no wish to pay for something that you might not get, we advise moving on to the malware's removal. Researchers say that the threat could still be dangerous and recommend deleting it. If you want to learn how you could erase Bepabepababy Ransomware manually, you could use the removal guide available above this paragraph.