Do you know what Chinz Ransomware is?
Chinz Ransomware places an extension made from a unique ID number, email address, and letters chinz at the end of its encrypted files. For example, the extension generated for our test computer was .id[B4A6FEC6-9879].[yuzhou13@tutanota.com].chinz. After encrypting targeted files, the malware displayed a random note. It stated that users who want to decrypt their files have to contact the malicious application's developers and pay a ransom in exchange for decryption tools. It does not matter what hackers might say or promise to you because there are no guarantees that they will hold on to their end of the deal. Thus, if you do not wish to take any chances, we advise against paying the ransom. We invite you to read our full article to learn more about the hackers' proposal, malicious application's working manner, and its possible distribution. If you want to know how you could erase Chinz Ransomware manually, you should have a look at the removal guide available below the main text.
If you have never encountered a malicious application like Chinz Ransomware, your first question after receiving it could be, how did it manage to get in? The truth is that there is no short answer since such threats can be spread through file-sharing websites, spam emails, malicious pop-ups or ads, and so on. Thus, the malware's installer could be any recently downloaded or received file. Consequently, we advise staying away from unreliable file-sharing sites, spam emails, and suspicious ads or pop-ups. We also recommend ensuring that your computer does not have vulnerabilities like weak passwords, unpatched or outdated software, and unsecured Remote Desktop Protocol (RDP) connections. Plus, it would be a smart idea to get a reputable antimalware tool that could stand guard and protect your system.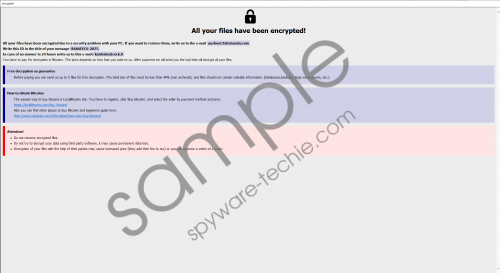 Chinz Ransomware screenshot
Scroll down for full removal instructions
How does Chinz Ransomware work? The malicious application may not need to create any files to settle in. Therefore, it might start encrypting files that it is after right after entering the system. The encryption process might not take a lot of time if a victim does not have many files on the infected computer. During this process, Chinz Ransomware should encrypt files with a secure encryption algorithm, mark them with the earlier mentioned extension, for example, roses.jpg.id[B4A6FEC6-9879].[yuzhou13@tutanota.com].chinz. When all targeted files are locked and marked with the mentioned extension, the malware should create ransom notes called info.hta and info.txt. These files should contain a message saying that all data was encrypted, and users need special decryption tools to unlock them. The notes should also say that users can get decryption tools only if they pay a ransom. It is said that the price depends on how fast victims email hackers and that they can also send up to five files for free decryption. It should be small files that would not contain anything important.
Hackers propose decrypting a few small files to prove that they have the unique decryption key and decryptor. However, decrypting a few files does not guarantee that hackers will send the promised decryption tools. Meaning there is a risk that users who pay could be tricked and lose their money in vain. If you do not want to risk your money, we advise not to put up with any demands but look for backup copies that you could use to replace encrypted files. We also recommend deleting Chinz Ransomware because keeping it on the system could be risky. To get rid of it manually, you could use the instructions removal guide available at the end of this text. You could also employ the reputable antimalware tool and use it to eliminate Chinz Ransomware.
Erase Chinz Ransomware
Restart your computer in Safe Mode with Networking.
Click Windows Key+E.
Navigate to the suggested paths:
%TEMP%
%USERPROFILE%Desktop
%USERPROFILE%Downloads
Find a file opened when the device got infected, right-click the malicious file, and select Delete.
Navigate to this location again: %USERPROFILE%Desktop
Look for files called info.hta and info.txt, right-click them, and choose Delete.
Exit File Explorer.
Empty Recycle bin.
Restart the computer.
In non-techie terms:
Chinz Ransomware comes from the Phobos Ranomsware family, which means the threat is based on an already existing malicious application. Consequently, it acts more or less the same as other infections from the mentioned ransomware family. First, it should encrypt all targeted files so that they would become unreadable. Next, the malware ought to display a ransom note saying that users can decrypt their files by purchasing a unique decryption key and decryptor. According to the note, the price depends on how fast users contact the malicious application's creators. However, we advise not to rush and consider this option carefully. Hackers may promise to hold on to their end of the deal, but you cannot be sure they will do so. Thus, we recommend against paying the ransom if you do not want to put your savings at risk. Also, we advise not to leave this threat on your system if you wish your computer to be malware-free. To delete Chinz Ransomware, you could use the removal guide placed below this paragraph or employ a reputable antimalware tool.