Do you know what Sglh Ransomware is?
Sglh Ransomware is a silent attacker, and it might exploit spam emails and bundled downloaders to approach you. If the email messages are misleading enough, and the downloaders are attractive enough, you could be tricked into executing the infection. What happens after that? The infection is meant to stay silent for a little bit, until all of your personal files are encrypted. The threat corrupts documents, photos, projects, and other personal files, and it adds the ".sglh" extension to their names as a marker. This might be the first sign of the infection for you. Otherwise, you might be informed about the attack via a file named "_readme.txt." Whichever you discover first, if your files were encrypted, it is too late to stop the attackers. Now, you need to move on to the removal of Sglh Ransomware.
The devious and clandestine Sglh Ransomware is part of the STOP Ransomware family, and it has hundreds of clones, including Lisp Ransomware, Epor Ransomware, and Foqe Ransomware. These threats function in the same ways, and they always use the "_readme.txt" file to introduce the same message. According to it, all encrypted files can be "returned" back to normal with the help of a decryption tool and a unique key. The attackers behind the threat suggest that they can sell it for $490, which, of course, is a lot of money, but if attackers encrypt highly personal files, victims might be willing to pay the ransom. Well, let us warn you that you will not get a decryptor by following the attackers' demands. Therefore, we do not advise paying it. We also do not advise emailing helpmanager@mail.ch or restoremanager@airmail.cc to learn more about the payment and contact the attackers.
Unfortunately, decrypting the files corrupted by Sglh Ransomware manually is not something that regular Windows users can even attempt doing. The good news is that a STOP Decryptor exists. It is free and it was created by researchers. Will it decrypt all files? Unfortunately, that is unlikely to be the case, and some victims might find this tool useless. Of course, if your files were encrypted, it certainly will not hurt to try the tool out. If you cannot decrypt files, we hope that you can replace them. Needless to say, when it comes to personal files, they are generally irreplaceable, unless copies exist. If you have copies stored outside the infected computer, you can replace the encrypted files, but only after you delete Sglh Ransomware from your operating system.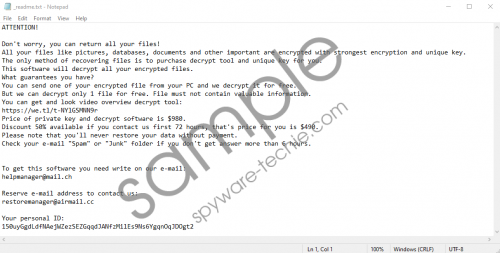 Sglh Ransomware screenshot
Scroll down for full removal instructions
So, how do you delete Sglh Ransomware from Windows? One option is represented via the guide below. Do we believe that all victims of the infection will be able to remove this malware manually? Absolutely, we do not, but if you know where to find the launcher of this malware, you are one step ahead. That being said, we do not think that the manual removal of Sglh Ransomware is the best option at all. Instead, we believe that victims of this malware should implement anti-malware software. It will automatically erase all threats, and it will also safeguard your operating system to keep it safe against malware attacks in the future. If you want to take an extra step towards complete security, create backups of all personal files.
Remove Sglh Ransomware
Simultaneously tap Windows and E keys to access File Explorer.
Type %HOMEDRIVE% into the quick access field and tap Enter.
Delete the folder named SystemID and a file named _readme.txt.
Type %LOCALAPPDATA% into the quick access field and tap Enter.
Delete the ransomware folder (name could be similar to 0115174b-bd55-4caf-a89a-d8ff8132151f).
Empty Recycle Bin and then implement a malware scanner to check the system for malware leftovers.
In non-techie terms:
Sglh Ransomware is a dangerous threat, and you want to make sure that you keep your Windows operating system protected against it. If you fail, this malware can encrypt all personal files, and once that is done, you will not be able to read them anymore. The goal here is to sell you a decryptor, but it seems that cybercriminals are only selling the idea of a decryptor. In reality, if you contact the attackers and follow their payment instructions, it is unlikely that you will receive anything at all. So, we suggest focusing on the removal of Sglh Ransomware. Getting rid of this threat and securing the system for the future manually can be extremely difficult, but if you implement trusted anti-malware software, you will not need to do much. We are happy to provide you with further assistance and answer questions about the removal. Use the comments section below to communicate with our research team.