Do you know what Leefmylife.info is?
Leefmylife.info is an adware server that cannot be physically on your computer, but if you encounter it online, it might be associated with tons of ads that eventually starts popping up when you browse the web. It doesn't mean that you've been infected with malware or anything like that. This entry is here to help you restore your browser settings to default and avoid Leefmylife.info ads from interfering with your browsing sessions. Also, you should be careful about running into potentially harmful content online, so please spare a few minutes of your time to go through this description.
The first thing we would like to point out in this case is that Leefmylife.info and other similar adware servers have a rather short lifespan. It means that by the time you read this entry, Leefmylife.info might have already been taken offline. But no sweat. Where one adware server disappears, several others take its place. So, all the aspects of this description can be easily applied to any other adware server out there.
We usually encounter them when we browse websites that support third-party advertising. Random pop-up windows may appear on our screens whenever we click something on such websites. In some cases, it wouldn't be too far-fetched to say that users may mistake that pop-up as a part of the website they are on. So, if they see some notification that says, "Click Allow Notifications" to enable content," they might think that clicking the button would allow them to enjoy even more content on the site they are currently browsing. Unfortunately, usually such pop-ups have nothing do with the main website, and just like that, users allow third-party applications and adware into their systems.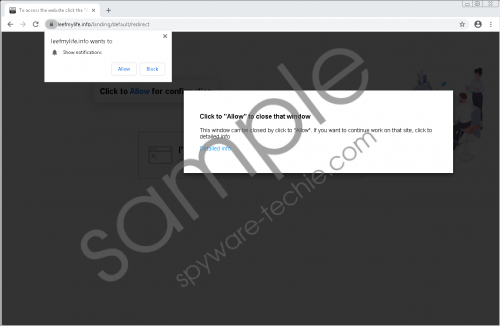 Leefmylife.info screenshot
Scroll down for full removal instructions
Now, adware servers like Leefmylife.info do not try to do anything malicious. After all, they are just used as conduit by third parties that want to promote their content. And at first, the ads that you might see on mini notification windows on Desktop might be absolutely random. But as time goes on, the content of those ads will become more and more customized. Why does that happen? It happens because the Leefmylife.info components also employ tracking cookies to collect data on your browsing history. If you're wondering whether that's legal, it is. And you actually agreed to allow this collection the moment you clicked that Allow notifications button.
In a sense, Leefmylife.info and other adware server components collect browsing data to customize commercial ads, and in some cases, it might even seem useful. After all, you would see only the content that is more or less related to your likes and preferences. Like that, you would be able to reach some content without additional searching.
However, there is no guarantee that this content would be safe. And this is probably the main security issue associated with Leefmylife.info and other adware servers. Since these entities are just mediators, they cannot check whether the content you see on your screen is safe. If you choose to interact with the ads, you are the one responsible for whatever happens when you land on a third-party website.
Also, it is quite possible for cybercriminals to exploit Leefmylife.info and other similar mediums to distribute their content to unsuspecting users. It wouldn't be possible to blame these adware servers for dangerous content distribution because their privacy policy does not cover that. Hence, if you notice that you constantly see various ads and you have no idea where they come from, you clearly need to check your browser's settings.
In fact, the best way to get rid of anything associated with Leefmylife.info is resetting your browser to default. If you have more than unwanted component added to your browser, you will be able to get rid of them with a few clicks. Also, you should consider scanning your computer with the SpyHunter free scanner. Aside from browser settings, there might also be unwanted programs installed directly on your computer, and you should clearly remove them all.
If you are careful about the websites you visit, you should be able to avoid Leefmylife.info and other unwanted programs. But if you're not sure where to begin, don't hesitate to drop us a comment.
How to Reset My Browser
Chrome
Press Alt+F and go to Settings.
Scroll down and click Advanced.
Press Restore settings to their original defaults.
Click Reset settings.
Firefox
Press Alt+H and navigate to Troubleshooting information.
Press Refresh Firefox at the top right of the new tab.
Click Refresh Firefox and click Finish to complete.
Edge
Tap the three dots at the top right corner of your browser.
Select Settings and press Reset settings on the left.
Click Restore settings to their original values.
Hit Reset.
In non-techie terms:
Adware server like Leefmylife.info is not a malicious infection, but it is still a potential security threat that shouldn't be ignored. If you accidentally allowed notifications that display random ads via Leefmylife.info, you should consider scanning your system with a licensed antispyware tool. Remove everything that could be related to various threats from your computer, and then safeguard your system against similar intruders in the future.