Do you know what Zoom Zoom is?
Zoom Zoom is a new adware program that is going to make you browsing experience very irritating. The program displays advertisements that are not worthy of your trust. The app could open up the floodgates for more malicious applications to infect your computer. Therefore, you should remove it in order to avoid undesirable consequences. Zoom Zoom is currently compatible with Google Chrome, Mozilla Firefox, and Internet Explorer. So, users who use these browsers should be careful not to get infected with it. However if you already have been infected, please read this article if you want to know more about Zoom Zoom and above all, how to remove it.
Zoom Zoom has been developed by SuperWeb LLC, a notorious adware developer responsible for releasing dozens of adware apps. Lately, we have witnessed a surge in adware coming from SuperWeb, which is definitely not good news. However, the developer hasn't come up with anything new. It still continues to spew out clones of previous adware programs. Zoom Zoom is no different from Special Box, SquareTrace, Wild West, Pathmaxx, and so on. Needless to say, you should remove its clones if you were to get infected with them.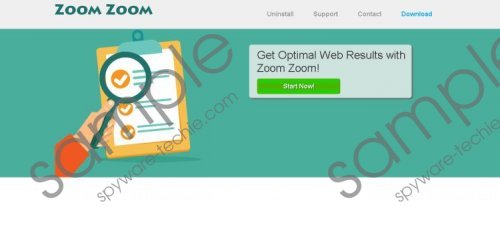 Zoom Zoom screenshot
Scroll down for full removal instructions
Typically of its clones, Zoom Zoom has a dedicated website called Zoomzoomapp.com that features a download button, which thankfully does not work. However, this infection is known to be spread via freeware bundles. These bundles are usually found on freeware sharing websites such as Cnet.com, Soft32.com, and so on. So, you should definitely avoid downloading and installing anything from such websites. But if you insist on installing freeware bundles, remember to always opt for advanced installation settings so that you could remove any additional applications such as Zoom Zoom from the installation process.
As an adware application, Zoom Zoom displays commercial advertisements of unreliable nature. The promoted content could be supplied by unreliable third parties hopping that inattentive users click their ads and get infected with malicious applications. In addition, the adware may be programmed to collect information about the infected user. It may keep tabs on your search queries and browsing history. So you should definitely remove Zoom Zoom because its developers are infringing privacy rights.
All in all, Zoom Zoom is a program you could do without, as it merely displays advertisements that are provided by third parties. As mentioned, some of these third parties may be interested in infecting your PC with malware or keeping an eye on what you are searching for. So, do not hesitate and remove Zoom Zoom using our manual removal guide.
How to remove Zoom Zoom from Windows
Windows 8 and Windows 8.1
Open the Start Screen.
Type Uninstall in the search box and then go to Settings.
In the search results, click Uninstall a program, find Zoom Zoom.
Click Uninstall.
Windows 7 and Windows Vista
Click Start.
Select Control Panel.
Click Uninstall a program, find Zoom Zoom.
Click Uninstall.
Windows XP
Open the Start menu.
Click Control Panel.
Select Add or Remove Programs, find Zoom Zoom.
Click Uninstall.
Remove the Zoom Zoom browser extension
Internet Explorer
Press Alt+X.
Click Manage Add-ons.
Click Toolbars and Extensions.
Click Remove Zoom Zoom and click Close.
Google Chrome
Press Alt+F.
Click More tools.
Click Extensions and click Remove Zoom Zoom.
Mozilla Firefox
Press Ctrl+Shift+A.
Click Extensions and click Remove Zoom Zoom.
In non-techie terms:
Zoom Zoom is and adware developed by SuperWeb LLC. The program has been created for one purpose and one purpose only, which is to display commercial advertisements. However, more often than not, those ads are supplied by unreliable third parties that could try to infect your PC with malware. The app also collects information about the users browsing habits thereby violating you privacy. Therefore we recommend that you remove this app as soon as you can.