Do you know what ZombieNews is?
ZombieNews is an application that computer users are offered to install on their Windows operating systems. Why should you install this program on your PC? Well, our malware researchers are against this, because the program is useless and unreliable. It should become clear that the program is worthless as soon as you learn that it has been created to monitor zombie invasions. Unfortunately, the app is not humorous at all, and if you install it, you will face an avalanche of unreliable ads. Have you already installed the app? Then you need to delete ZombieNews. If you remove the program from your PC, you will not need to worry about the ads that could show up or the tracking cookies that could spy on you.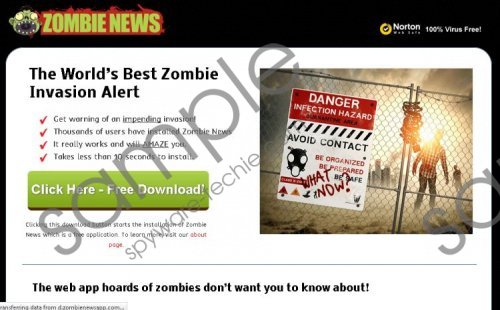 ZombieNews screenshot
Scroll down for full removal instructions
The layout of zombienewsapp.com (official download page) is identical to the layouts of sites representing Zombie Alerts and ZombieInvasion, both of which we recommend removing. These applications offer the same services as ZombieNews does, and this is quite suspicious. We believe that these programs have been created by the same people, and if this is the case, it is strange that there are so many programs that offer the same services. In fact, it is most likely that ZombieNews has been created just to create more opportunities for the creators to earn money. Even though ZombieNews is a free application, it is funded by third-party advertisers, and this is why you can expect to find a bunch of pop-up and banner ads when browsing the web. Can you trust these ads? We would not recommend you to remove ZombieNews if we thought that the application was reliable and the displayed ads were trustworthy. We trust that it is in your best interest to remove the advertisement-supported program from your operating system.
Do you want to delete ZombieNews from your PC manually or are you ready to install the automatic malware removal software? The second option is far more beneficial, because it can guarantee a successful malware removal and the reliable Windows protection. Of course, you need to employ authentic and up-to-date security software to ensure that the removal of ZombieNews is completed. We also recommend using this software to delete the programs that may have been installed with the ad-supported program. The manual removal is presented below.
Delete ZombieNews from Windows
Delete from Windows 8.1/Windows 8/Windows 7/Windows Vista
Simultaneously tap Win+R to launch RUN and type in Control Panel. Click OK.
In the Control Panel menu click Uninstall a program.
Right-click the application you wish to remove and select Uninstall.
Delete from Windows XP
Move the cursor to the left corner of the Taskbar and click Start.
In the Start menu select Control Panel and then double-click Add or Remove Programs.
Click Change or Remove Programs, select the undesirable app, and choose Remove.
In non-techie terms:
The advertisement-supported program ZombieNews is not as reliable and beneficial as you think. The app does not offer beneficial services, since zombies do not exist, and there is nothing to report about their invasions. Have you downloaded the app just for fun? Well, you will not be amused once the irritating and potentially unreliable ads start flooding. We recommend removing ZombieNews with the help of the automatic malware removal software, but you can also try to delete it manually.