Do you know what Zombie Invasion is?
Zombie Invasion is an adware application that collects data on the latest news related to zombies. This program should warn you about the oncoming zombie attack. Although some users might be thrilled that such an exciting application exists, we do not recommend keeping it on your computer. Zombie Invasion collects your web browsing data as well, so it may inadvertently leak it to unreliable third parties. This would expose you to potentially corrupted websites. Before any of that happens, remove Zombie Invasion from your system and invest in a licensed computer security application.
Zombie Invasion is based on Injekt engine, and it is very similar to Meteoroids, TV Wizard, Blasteroids, and other programs the same group. Its digital signature says that Zombie Invasion has been developed by Time Lapse Solutions. Our research team thinks it is the same group of developers as Acute Angle Solutions, Parallel Lines Development, Creative Island Media, Big Water Applications, etc. It is clear that these adware developers make applications similar to Zombie Invasion in order to generate easy financial profits. Users do not need to panic if they have Zombie Invasion on their computers because adware apps do not steal your money directly.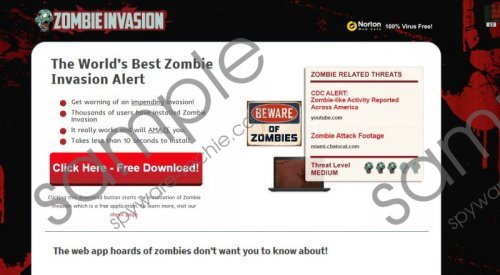 Zombie Invasion screenshot
Scroll down for full removal instructions
Such programs like Zombie Invasion are not keyloggers, and they cannot steal your banking logins or passwords. The primary security concern associated with such applications is commercial pop-up ads. These ads could be embedded with outgoing links to corrupted websites. You have to realize that Zombie Invasion does NOT check what kind of content gets embedded into its ads. Although the program says that its main objective is to warn you about the possible zombie attack, the reality is that this program was created to display ads. Whenever users click one of the Zombie Invasion ads, the programs creators earn money via pay-per-click system.
Needless to say, neither the tracking of your web browsing habits nor the displaying of commercial advertisements is illegal. However, adware programs can be easily exploited by malevolent third parties for their purposes. Hence, if you care about your system's security, you will get rid of Zombie Invasion immediately.
Follow the instructions below to remove Zombie Invasion from your computer. Manual removal via Control panel is not complicated, but you have to keep in mind there are probably more unwanted programs that you need to take care of.
If you think that you cannot do that on your own, invest in a powerful computer security application. An antispyware program of your choice will help you run regular system scans, and you and you can be sure that your computer would be protected from harm.
How to remove Zombie Invasion
Windows 8
Move mouse cursor to the bottom right of your desktop.
Click Settings on Charm bar and go to Control Panel.
Select Uninstall a program and remove Zombie Invasion.
Windows Vista & Windows 7
Open Start menu and click Control panel.
Go to Uninstall a program and remove Zombie Invasion.
Windows XP
Press the Start button and go to Control Panel.
Select Add or remove programs and uninstall Zombie Invasion.
In non-techie terms:
Zombie Invasion can save you from a zombie attack, but it cannot protect you from adware. It is a potentially unwanted program that can spam you with annoying pop-up ads. It is for the best to remove Zombie Invasion from your system right now because such programs are not reliable. For any further questions, do not hesitate to leave us a comment.