Do you know what Zlocker Ransomware is?
Zlocker Ransomware is nothing more than yet another file-encrypting program, which should never be active on your personal computer. If unfortunately, that happens to be the case, it is crucial to execute its thorough removal once and for all. That is imperative to do so because this malicious program is infamous because it could lock enormous amount of data without any notification or authorization. To understand how that could happen and more about the complex inner workings of this malware, be sure to read this article in its entirety. Since a lot of users infect their PC with this malware due to lack of knowledge regarding virtual security and its importance, we also include a few recommendations that will help you maintain a secure system at all times. Lastly, but most importantly, you will find an easy-to-follow removal guide, which you should use to delete Zlocker Ransomware once and for all.
During the extensive analysis, our malware experts have discovered that Zlocker Ransomware is mostly distributed in Russia. While that is the case, it is critical to understand it might affect users all around the globe; thus, it is imperative to be aware of this malware's existence at all times, if you value your virtual security. It is also essential to note that our researchers have also found out that this ransowmare program might still be under development. A major sign that it is the case is its poor functionality. Even though it scans your hard drive upon intrusion, the encryption procedure is somewhat dubious. Upon further analysis, it has been noticed that during encryption the malicious application in question only locks a few folders, in a completely random manner. The only thing that is known is that the ransomware in question does not affect any files, which are essential for your operating system's functionality. Furthermore, you should know that the affected files will be locked with a powerful cipher to eliminate any chances of manual decryption. As soon as Zlocker Ransomware is done doing its dirty work, you will see a ransom note. It will inform you about what has happened. However, there are no clear instructions or demands for a ransom, which is another indication that this malware is still in its developmental stages. It should be more than obvious that you must remove Zlocker Ransomware without any hesitation. To do that without encountering major problems, make sure to follow the instructions below.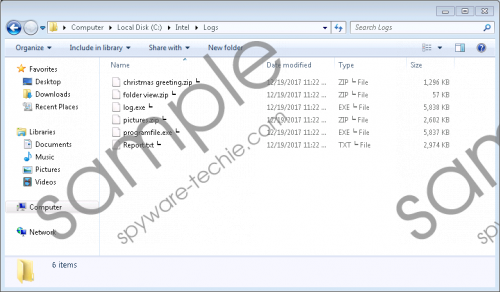 Zlocker Ransomware screenshot
Scroll down for full removal instructions
To maintain a clean and secure operating system at all times, you need to take precautionary steps. First, you must install a professional antimalware tool if you do not have one already. Such a tool is the most important part of your virtual security because it can easily detect and terminate every virtual security threat in a fully automated manner before it can enter your operating system. Alongside such a tool, we highly advise you to refrain from all questionable download sites since they are infamous for being the primary source of bundled installers. Such setup files are dangerous because they are filled with questionable and even malicious applications. Another way to limit the chances of coming across devious installers is by refraining from all email attachments that come your way from suspicious third-parties. It is critical to do so because malware developers often use spam email campaigns for distribution purposes. Last, but not least, make sure to learn as much as you can about any program before downloading it because cyber crooks often use misleading marketing tactics to fool users into obtaining and installing their suspicious programs. By taking these seemingly simple preventative steps, you will be able to maintain a clean and secure operating system at all times.
Follow the instructions that we provide below to delete every single bit of Zlocker Ransomware. It is critical to terminate every single bit of this dubious program to stop its malicious functionality once and for all. You must also know that traces of this malware could also act suspiciously. There is a chance that leftovers might be used to restore Zlocker Ransomware without your knowledge. In other instances, those same leftovers could be more than enough to continue working. Your best bet to avoid finding yourself in such a situation, make sure to recheck your entire operating system as soon as you are done with the instructions below. By doing so, you will be sure that the termination has been successful.
How to remove Zlocker Ransomware from your PC
Open the File Explorer.
Navigate to C:\Users\(your username)\Downloads.
Select a malicious .exe file and then tap the Delete key on your keyboard. Keep in mind that the name of this file is randomized.
Close the File Explorer.
Right-click your Recycle Bin and then select Empty Recycle Bin.
In non-techie terms:
If you believe that manual removal is a task a bit too complicated to complete on your own, do not worry. Malware experts at Spyware-Techie.com have crafted an alternative removal guide to help you delete this malware. By following them, you will be able to remove Zlocker Ransomware in a fully automated manner.