Do you know what Zlappy.com is?
Zlappy.com refers to a website that is set as your default homepage when you get infected with a browser hijacker. A browser hijacker is a type of computer intruder that modifies your browser settings with the intention to make some money. Luckily, a browser hijacker cannot steal your financial information, so it does not fall into an immediate threat category. Nevertheless, you should not ignore the modifications performed by this program because they might lead to undesirable consequences. The best way to avoid that is to remove Zlappy.com from your system as soon as possible.
When we have to deal with potential computer security threats, we often need to understand how they manage to enter our systems. It is important if we are going to avoid similar intruders in the future. Most of the browser hijackers do not have official distribution pages because (probably) no one would want to install such a program willingly. Instead, they travel in software packages because that is the most convenient way to access target systems. However, if Zlappy.com really entered your computer in a software bundle, it means that you have several security issues on your computer already.
Why? Because freeware applications travel in groups. If you installed Zlappy.com on your browser (albeit you were not aware of that), it means you also allowed several other programs to enter your system. Perhaps you were too focused on this one application that you wanted to have in the first place, and you did not notice that the installer informed you about the additional programs or features. That is also one of the reasons why it is so important to read all steps in the installation wizard. You might be missing crucial clauses that would otherwise help you avoid potentially harmful applications.
Luckily, a browser hijacker will not destroy your system (at least not immediately), but it can still annoy you to no end because the program can change your main settings on Internet Explorer, Chrome, and Firefox. The hijacker does not seem to work on the Edge browser so far. When the program changes your homepage address, it also adds its own search engine to your browser, and all of your web searches automatically get redirected through the customized Google Search engine. At first, it might seem as though the program can provide you with relevant search results, but you should remember that all browser hijackers employ tracking devices to monitor your online activity.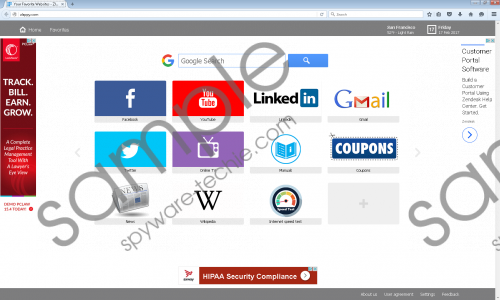 Zlappy.com screenshot
Scroll down for full removal instructions
In a sense, Zlappy.com does the very same thing you can expect from Mywebtopic.com and Polarisearch.com hijackers. They enter user computers to make some money for their creators, but there is always the exploitation factor we cannot forget. What we mean is that the possibility of a browser hijacker getting exploited by cyber criminals. Albeit this possibility is very low, but the truth is that Zlappy.com will never review the third-party content it promotes. Have you seen multiple advertisements on the hijacker's homepage? Where do you think the content is coming from?
Third parties make use of the hijacker's advertising space to promote their content and, consequently, make a profit. But since almost anyone can embed their content in that space, cyber criminals can do that too. Then Zlappy.com would become a medium for online marketing schemes and even malware distribution. This is why it is necessary to remove browser hijackers and other potentially unwanted applications from your computer before the situation falls out of hand.
You can get rid of the program by following the removal instructions you will find below this description. It is not complicated to remove Zlappy.com manually, so there is no need to panic. However, if you are not sure whether you can deal with this on your own, you can always acquire a security application that will uninstall potentially unwanted programs for you automatically. That is right; we are talking in the plural here because this browser hijacker is certainly just one of the many unwanted programs that are running on your PC right now.
After you delete all the potential threats, do not forget to protect your PC from other intruders. We have already mentioned that is necessary to read all the steps in the installation wizard to avoid unwanted applications. On top of that, you should refrain from downloading programs from third-party sources, and you should seriously consider investing in a powerful security tool.
How to Delete Zlappy.com
Internet Explorer
Press Win+R and the Run prompt will open.
Type regedit into the Open box. Click OK.
Open HKEY_CURRENT_USER\Software\Microsoft\Internet Explorer\Main.
Right-click the Start Page value, on the right pane.
Choose Modify and edit your homepage address. Click OK.
Firefox
Press Win+R and type %AppData% into the Open box.
Click OK and go to Mozilla\Firefox\Profiles\[User ID].
Use Notepad to open the prefs.js file.
Remove this string: user_pref("browser.startup.homepage", "http://Zlappy.com");
Save changes and exit the file.
Chrome
Press Win+R and type %LocalAppData%. Click OK.
Navigate to Google\Chrome\User Data\Default.
Delete these files: Preferences, Secure Preferences, and Web Data.
In non-techie terms:
When Zlappy.com appears on your browser, it means that you must have installed a few potentially unwanted programs on your computer. This program in particular is a browser hijacker, and it means that it will collect information about your web browsing habits for marketing purposes. This eventually can be exploited by cyber criminals, so you will do yourself a favor if your remove Zlappy.com immediately.