Do you know what ZipperFile is?
ZipperFile is a file zipper, which you probably have already guessed. However, what you may not know yet is that this application may cause some trouble for you in the form of system security issues. Since this program itself cannot be considered as a major threat to your operating system, our researchers have classified it as a potentially unwanted program, a PUP. Do not get too relieved though that it is only a PUP. It could be misleading to think that everything is all right now and that you can leave this application on your computer. What most users forget in such cases is that there are still potential risks in connection with a PUP. In the case of ZipperFile this is even more true. According to our researchers, this program may exhibit a couple of worrisome traits that you should not ignore, so we advise you to remove ZipperFile if you do not want to wait for more serious infections to start turning your system upside down.
Although ZipperFile claims to compress and decompress more than 16 different file formats, including .zip, .gz, .tar, .rar, and .iso, in reality, it seems it may only recognize .zip files. It also claims to be "up to 40% faster than its main rivals," which sounds like a bit of an overstatement. What it really can be faster at than its rivals is the speed of infecting your system with potentially dangerous malware programs. As a matter of fact, even the official installer you can download from its website, zipperfile.com, bundles malware infections, such as adware programs and bad toolbars. Both of these types of malware may expose you to unreliable websites and thus more infections. Landing on such pages could be rather detrimental to your operating system and, in more severe cases, your bank account. Why would you trust an application that operates this way? This should be more than enough for a security-minded user to delete ZipperFile right away.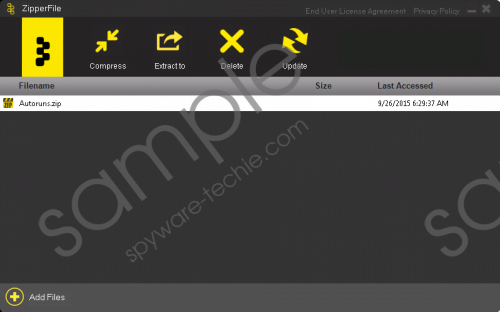 ZipperFile screenshot
Scroll down for full removal instructions
But the reliability of this PUP only gets worse when you discover that it is mainly distributed in free software bundles packed with malware infections. As a matter of fact, when it comes to ZipperFile, you cannot escape from the potential exposure to cyber criminals and more malware threats unless you erase this PUP and all other infections you may identify. To make it easier and more efficient for you, use an online malware scanner to see what the condition of your system is. If the scanner returns with unfavorable results, you will definitely have to take action if you intend to secure your machine.
ZipperFile has the capability of displaying third-party ads itself. It may do it through its own application window, but it can also generate pop-up ads or even new tab pages while you are surfing online. Another annoying "feature" this PUP may exhibit is redirection to third-party pages. All in all, this is an application that has no real use for you; however, it may hold some nasty surprises for you. Hopefully, you can see more clearly now what you may be up against if you have this PUP on your computer.
At the end we can finally tell you one good thing about this potentially unwanted program: It is very easy to eliminate it. So, if you are ready to say goodbye to this useless application, simply locate its uninstaller in the installed programs list in Control Panel and run it. It is really as simple as that. Nevertheless, it is possible that you are new to this, so we have included instructions for you, which you will find below this article. Please remember that a lot of such infections and even malware threats can be avoided if you are more careful about what websites you visit and what ads and links you click on. We strongly advise you to stay away from unreliable and suspicious-looking websites, mostly freeware and torrent sites. This way you can help your Windows operating system remain protected.
ZipperFile Removal from Windows
Windows XP
Click the Start button and go to Control Panel.
Open Add or Remove Programs.
Click on the application and press Remove.
Windows Vista/Windows 7
Open the Start menu and select Control Panel.
Access Uninstall a program.
Click on the application and press Uninstall.
Windows 8/Windows 8.1/Windows 10
Press Win+X and access Programs and Features.
Click on the application and press Uninstall.
In non-techie terms:
ZipperFile is a potentially unwanted program that may present to you certain risks that may break down the walls of your virtual security. This PUP is a rather suspicious one since even its official installer file bundles malware infections together with this application. But the most common way for it to spread over the net is in freeware bundles that can also be packed with several malware programs. Thus, no matter how this PUP shows up on your computer, it can indirectly expose you to potentially unsafe third-party web content. Therefore, we advise you to remove ZipperFile and every other related malware threat. In order to be effective in your endeavor to secure your PC, we recommend that you install a reputable malware remover.