Do you know what Zip4NewTab Chrome Extension is?
Zip4NewTab Chrome Extension is a piece of software compatible with Google Chrome. Many users install it voluntarily because it promises to enable them to compress and unzip files with the single click. Unfortunately, the majority of users find out that Zip4NewTab Chrome Extension is one of those programs that alter browsers' settings upon successful installation only after installing it on their computers. It is one of the main reasons they decide not to keep it installed next to other extensions. Experienced specialists do not think that it is a very good idea to let this extension stay active either because it is known to be a potentially unwanted program (PUP), meaning that it is not a harmful malicious application, but it still has several minor drawbacks. You should attentively read the next paragraph of this article to find more about Zip4NewTab Chrome Extension. We hope it will be easier for you to decide what to do with this Google Chrome extension after you read what we have to say about it.
First of all, we want to emphasize that Zip4NewTab Chrome Extension is not a harmful infection. Unfortunately, it would be a huge mistake to call it a trustworthy piece of software as well because, as our malware researchers have observed, it alters Google Chrome settings the first thing after it gets onto users' computers. Speaking specifically, you will see http://www.4newtab.com/zip set on your browser as a homepage. To tell you the truth, this program does not do anything else. Yes, you will find quick-access buttons Extract a zip file and Create a zip file opening online tools located at the top of the search engine, which might seem quite a useful feature, but we are still sure that there are better applications allowing users to zip and unzip files available on the market. Unfortunately, we cannot call the search engine set by Zip4NewTab Chrome Extension fully reliable too because, according to our specialists who have analyzed it, it might present users with third-party links seeking to promote third-party pages that pay money for advertising. Last but not least, researchers have found it very surprising that users are offered to install another extension after installing Zip4NewTab Chrome Extension. The extension promoted is not fully trustworthy either because it changes search settings to blpsearch.com automatically too.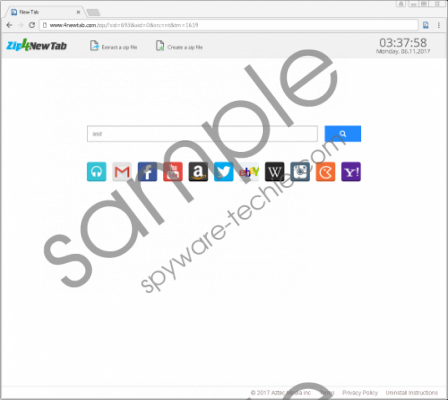 Zip4NewTab Chrome Extension screenshot
Scroll down for full removal instructions
Some users install Zip4NewTab Chrome Extension from http://ziplp.4newtab.com/ voluntarily by clicking the Free Download button, but, of course, not all users can explain why they have this piece of software installed on their browsers, which clearly shows that it might arrive on users' computers without their knowledge. Our specialists have also confirmed this. They say that potentially unwanted programs are often spread bundled with third-party software, and you might be one of these users who have installed the entire "software package" on their computers if you are sure you have nothing to do with the Zip4NewTab Chrome Extension installation. We want to emphasize that potentially unwanted programs are not the only ones that are spread bundled. Other untrustworthy programs might be distributed using the same method too, which is why it would be smart to install a security application on all computers connected to the Internet, security specialists say. If the tool is trustworthy and gets updates periodically, malicious software could not bypass it.
Potentially unwanted programs are not harmful infections, so it is usually not that hard to remove them. To delete Zip4NewTab Chrome Extension, you just need to access the list of Google Chrome extensions and then delete this piece of software from there. Our step-by-step instructions located below this article will help you to access the add-ons manager and delete this undesirable extension, so if you have never erased a browser extension before, you should let our instructions guide you. If you do not have time for the manual Zip4NewTab Chrome Extension removal, you can delete it automatically too. You just need to have an automated security application to do this.
How to delete Zip4NewTab Chrome Extension
Google Chrome
Open Google Chrome.
Press Alt+F.
Click More tools.

Open Extensions.
Select the browser extension you want to remove and click the remove button (trash icon) next to it.
In non-techie terms:
Zip4NewTab Chrome Extension is promoted as a useful piece of software, but, as it turns out after installing it, it is not very beneficial because the only activity it performs on users' computers is setting a new page on their Google Chrome browsers. This page looks like an ordinary search tool with quick-access buttons, but users should still not use it, specialists say, because it might present them with third-party links opening dubious pages. Of course, it would be best to disable the extension categorized as potentially unwanted software because it is not fully reliable even though it is not harmful malware.