Do you know what Zingload.com is?
Zingload.com claims that "The zingload web search engine is one of a kind as it automatically returns all the best results from leading search engines including Google, Yahoo!, Bing and Yandex." However, security specialists doubt that the website is any more unique than the other similar ones that modify search results. The site might gather your non-personal and personal information for marketing purposes. As a result, you will receive targeted ads in your search results. These advertisements are provided by a third party, so they cannot be considered reliable. If you want to know why these ads could be harmful to your computer, you should continue reading the article. In addition, you will find our recommended removal steps below.
According to the Zingload.com Privacy Policy document, the site "may collect device-specific information (such as your hardware model, operating system version, unique device identifiers, and mobile network information including phone number)." The search engine's creators claim they collect user information with various technologies, including cookies. Later this data is stored and processed on their servers that are located in a few different countries. The website's originators state that all information that is gathered from the Zingload.com users "may be used in the aggregate for commercial purposes, including without limitation, for marketing, co-registration to other services, promotional activities or any other activity." Apparently, the website's goal is to display tailored offers, advertisements, and other suspicious content.
It is hard to agree that the search engine provides the best results when it includes ads of third-party products and services. Third-party content is considered potentially dangerous because it may come from anyone, e.g. some third-party websites could be created by someone with malicious intentions and it may contain malware. Also, the sites could advertise fake products or unreliable software like browser hijackers, adware, and so on. Zingload.com creators take no liability for these sites and when you interact with a third-party content you are solely responsible for the outcome. Therefore, it would be best if you could stay away from third-party ads and sites.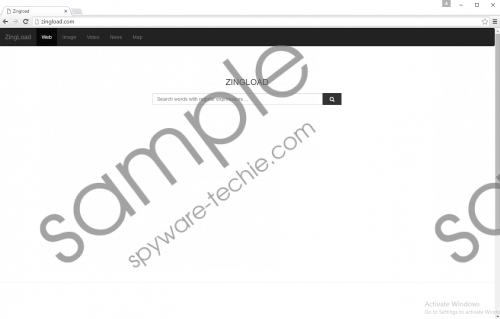 Zingload.com screenshot
Scroll down for full removal instructions
As for now the search engine is only compatible with the Google Chrome browser. If you did not choose Zingload.com as your search engine on purpose, it might be so that it appeared in your browser after you installed some suspicious freeware. Some file-sharing sites promote software that is bundled with questionable applications such as browser hijackers, potentially unwanted programs, toolbars, and so on. In this case, it could be that Zingload.com was suggested to you in the setup wizard. Usually, such unwanted applications appear when users accept all the terms without reading them carefully. Otherwise, you can deselect what is suggested in the installation wizard.
The search engine cannot be removed through Control Panel features, but it can be eliminated manually. We must warn you that deleting it manually might be a difficult task. For starters, you will have to navigate to %Localappdata% and search for the application's main folder. It will be in the Google Chrome's directory, but it will have its own folder with a random title. To make sure that the folder really belongs to Zingload.com you will have to check particular files that have the .js extension. All this sounds rather complicated, so we would advise you to use a legitimate security tool instead. It might take a couple of minutes to install it, but once you have it, you can leave this job for the antimalware tool. If it does not start a system scan, begin this process yourself and wait till it is complete, then you will be able to get rid of the search engine automatically.
Remove Zingload.com from Google Chrome
Open the Explorer.
Copy and paste this location %Localappdata%\Google\Chrome\User Data\Default\Extensions.
Press Enter.
There should be a few folders with titles from random letters.
Open these folders one by one.
Find manifest.json or any file with .js extension.
Open these files with Notepad and search if the text inside has Zingload.com links.
Locate the folder that has manifest.json file (any file with .js extension) with Zingload.com link inside it.
Right-click that folder and select Delete.
In non-techie terms:
To put it more simply, the search engine is not a trustworthy one since it places third-party content in your results. It looks like the safest solution is to remove it from your browser and look for a more reliable search engine. Although you cannot remove it via Control Panel, still you can get rid of the search engine if you delete its main folder. Also, you could remove Zingload.com with a trustworthy antimalware tool.