Do you know what ZeroCrypt Ransomware is?
Our cyber security specialists have recently tested a program called ZeroCrypt Ransomware. Evidently, it is a ransomware-type application whose primary objective is to encrypt the files stored on your computer and then demand that you send its developer money to get the decryption software/key. You should not comply with the request to pay and remove it instead because there is no telling whether this ransomware's developer will send you the promised decrypter. For more information on this new computer infection, we invite you to read this short description.
At the time of this description, however, ZeroCrypt Ransomware's dissemination methods are unknown. Nevertheless, we would like to discuss some of the more likely methods that can be used to distribute it. Email spam is a ransomware developer favorite. The email contains an attached file that can feature the main executable or a dropper file that connects to the C&C server and downloads the main executable. Nevertheless, the email can also feature a link that will download this ransomware once clicked. Alternatively, it could be distributed using exploit kits featured on infected websites. Exploit kits such as the Angler Exploit kit interact with a browser's Java and Flash browser add-ons and secretly download the ransomware when you interact with Java or Flash-based content featured on the infected website.
The sample our security experts have tested created a folder named ZeroCrypt in %LOCALAPPDATA% and placed its randomly named executable file. It also created a Point of Execution (PoE) at HKCU\Software\Microsoft\Windows\CurrentVersion\Run, a string named ZeroCryp of which the value data features the %LOCALAPPDATA%\ZeroCrypt file path. Once the executable and PoE were in place, ZeroCrypt Ransomware began encrypting files.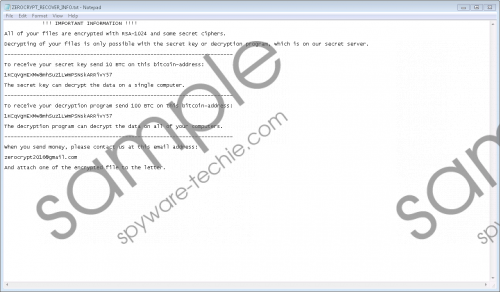 ZeroCrypt Ransomware screenshot
Scroll down for full removal instructions
Our security experts found that ZeroCrypt Ransomware uses the RSA-1024 encryption algorithm. Hence, this ransomware is set to encrypt files using a 1024-bit length key. Testing has shown that it is designed to indiscriminately encrypt almost all files in all locations on your computer. However, we have found that it skips the most vital operating system files in %WINDIR%, but this location is not excluded from the encryption process as some files in it are set to be encrypted. When this ransomware encrypts files, it also appends them with the .zn2016 file extension. Furthermore, it will create a file named ZEROCRYPT_RECOVER_INFO.txt in each folder where a file was encrypted. This particular file is the ransom note that contains information on what you are supposed to do once your files have been encrypted.
The ransom note says that in order to get the decryption key to decrypt your files, you need to send 10 BTC to the provided Bitcoin wallet. 10 BTC is an approximate 7243.95 USD which is a staggering sum of money. Nevertheless, it gets better because, in order to receive the decryption program in which you have to enter the expensive key, you need to pay 100 BTC which is 72,439.38. Now, this might be some sort of mistake because one in their right mind would risk paying either one of these sums because no file is that important or valuable and there is no guarantee that you will receive the decryption key and software.
In conclusion, ZeroCrypt Ransomware is a dangerous piece of software and can encrypt your personal files using an advanced encryption algorithm. At present, there is no way to decrypt its encryption key for free, so this ransomware is extremely dangerous. Its developers want you to give them money in exchange of the decryption key and software, but there is no guarantee that you will receive it. Therefore, you cannot trust its developers, and since there is no apparent way out of this situation, we recommend that you remove this ransomware using the guide below or SpyHunter, a powerful antimalware application that will delete this infection without difficulty.
Delete this ransowmare's files
Simultaneously hold down Windows+E keys.
Enter %LOCALAPPDATA% in the address box and hit Enter.
Find the folder named ZeroCrypt and Delete it.
Close the File Explorer window.
Then simultaneously hold down Windows+R keys.
Enter regedit in the box and hit Enter.
Find the registry string ZeroCrypt and delete it.
Done.
In non-techie terms:
ZeroCrypt Ransomware is a simple and yet dangerous ransomware-type infection that is secretly distributed using an unknown channel. If it enters a computer, it encrypts most of the files on it and then shows a ransom note that demands an unreasonable sum of money. Also, there is no telling whether the developers will give you the decryption program and key once you have paid. Therefore, you ought to delete this infection as soon as you can using our guide or SpyHunter — our recommended antimalware application.