Do you know what Zepto Ransomware is?
If Zepto Ransomware hits your computer, you can be sure that in a matter of a minute your files will be encrypted and inaccessible. Our researchers have found this dangerous ransomware very similar to the well-known Locky Ransomware; in fact, it seems these vicious programs come from the same authors. Since there is no free decryption tool you could download from the net, there is a good chance that you lose all your personal files in this attack unless you save a backup regularly on a removable drive. Paying the demanded relatively high ransom fee could be the only solution for you to get your files back; however, there is little chance that these criminals will really send you the private key and the decryptor. If you do not want to risk losing your money after possibly losing your files, you should not hesitate to remove Zepto Ransomware from your PC. Continue reading our report if you want to find out how you can avoid similar malware attacks.
Our research indicates that this ransomware is mostly spread through spamming campaigns as an attached .zip archive or a .docm file (as in "document with macros"). This means that if you are infected with this dangerous malware program, you must have opened a spam e-mail claiming to be an invoice of some sort. You may think that if your system is protected by a spam filter, no malicious mails can drop into your inbox. After this awful experience you may change your mind. As a matter of fact, not only can these spam mails avoid the detection by filters, but they can also trick you to open them and download their malicious attachment. The saddest thing is that it is actually you who let this beast onto your system. Therefore, if you want to avoid similar ransomware attacks via spam e-mails, you should make sure that you only open mails and download attachments when these are surely sent personally to you. Of course, the best solution is to install an up-to-date anti-malware program, such as SpyHunter, if you want to feel secured and protected against all known malware infections. But now that you are not protected, the only way to restore the security of your computer is to delete Zepto Ransomware ASAP; well, unless you have made up your mind already to pay the ransom fee, which we would advise you against, of course.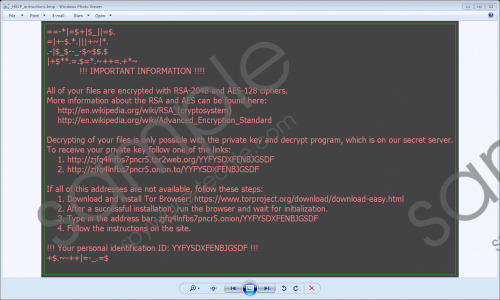 Zepto Ransomware screenshot
Scroll down for full removal instructions
The moment you try to open the downloaded and supposed invoice file is the moment you activate this infection. All your pictures, videos, documents, and program files get encrypted with the AES-128 algorithm within a very short time that does not even give you an opportunity to remove Zepto Ransomware from your computer before it finishes its vicious job. As we have already told you, this infection is very much like Locky Ransomware. In fact, the only difference between these two threats is that Zepto Ransomware renames the encrypted files entirely and adds the extension ".zepto" as in "YYFYSDXF-ENBJ-GSDF-0C80-4C970BE3F009.zepto." The first three sequences of characters are the encryption ID. The decryptor of this infection is called "Locky Decryptor" so as you can see, there is way too much resemblance to call it coincidence.
This ransomware does not lock your screen so can easily remove it actually. It does replace your desktop background with its ransom note image called "_HELP_instructions.bmp" that is dropped onto your desktop. Apart from that file, it also creates an .html file ("_[number]_HELP_instructions.html") in every affected folder. Both the image file and the .html file contain the same information. You are supposed to install the Tor browser and access a given address to get further details about the money transfer and to get the private key and the decryptor program. You have to pay 1.5BTC (856 USD) to be able to recover your files, which is a rather steep price in fact. Before rushing to transfer the money, you should definitely consider first if your files are worth this much at all. Of course, a lot of users have gigabytes of precious photos and other files stored on their computers. We still would not recommend paying this ransom fee because there is no guarantee that you will really get anything in return. Keep in mind that criminals may need to shut down their Command and Control server in the meantime, which could mean the loss of your private key even if you transfer the money. All in all, we believe that it is best to remove Zepto Ransomware as soon as you notice its presence on your computer.
It is really not too difficult to delete this ransomware. In fact, such programs are usually quite easy to get rid of because after the damage is done, the authors would not care less about whether you remove their vicious program or not. What's more, some infections actually eliminate themselves right after they finish the encryption process. In this case, you need to delete a few files and that is all there is to it. Please follow our guide below if you feel ready to handle this manually. If you would like an automated solution, we advise you to use a powerful anti-malware program that will also protect your computer from all existing malicious applications. Should you need any assistance regarding the removal of Zepto Ransomware, please leave us a comment below.
Remove Zepto Ransomware from Windows
Tap Win+E.
Locate the downloaded malicious invoice file and bin it.
Bin the .bmp image from the desktop.
Delete the .html file from all affected folders.
Empty your Recycle Bin.
Restart your computer.
In non-techie terms:
Zepto Ransomware is a dangerous infection that can encrypt your files and demand a high price for their recovery. If you do not want to lose your precious files, such as documents, photos, videos, and more, you should regularly make backup copies onto removable drives. The biggest problem is that in such an attack you cannot be sure that even if you pay the ransom fee, you will get your files back. You should remember that you are dealing with criminals. In this case you are asked to pay over 850 US dollar worth of Bitcoins, which is a lot of money if you only store old .doc files and some boring old photos on your computer. It is up to you how you decide and if you risk paying the fee or not. Nevertheless, we suggest that you remove Zepto Ransomware ASAP. If you want to go for an effective way to do so, we recommend that you use a professional malware removal tool.