Do you know what ZenDeals is?
If you download ZenDeals from zendeals.com/apps, soon enough your browsers will be flooded with online coupons which are meant to help you save money. The application has been developed to help you find the best deals and make a profit out of it. How does this work? The program is supported by third-parties who are interested in boosting traffic to certain websites. If you click on an advertisement or a coupon which routes you to a secondary site, these third-party advertisers pay money for promotion. This is a well-know and widely-exercised way to promote online content/earn money, and you may face it when dealing with Diamondata Deals, Bonanza Deals, SavingsShip and other similar browser plugins. If you are not comfortable with such activity – remove ZenDeals from your operating Windows system.
Even though currently ZenDeals is active on Internet Explorer only, there is a possibility that soon enough this plugin will be applied to work on Mozilla Firefox, Google Chrome and other popular web browsers. How does this add-on work? Once installed it drops web cookies to record information about the websites you visit and your search history. This information is meant to help the developers of the plugin to provide you with authentic and useful saving deals. Even though the plugin seems highly useful, once it gets installed onto the browsers you may find yourself being bombarded with various advertisements. What is more, you may discover that performing web search has become more difficult and various advertisement-supported search results are presented to you. This is caused by the active Search Protect by Conduit. We recommend that you remove this application as soon as possible.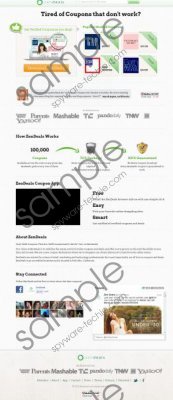 ZenDeals screenshot
Scroll down for full removal instructions
ZenDeals removal is a task which you may want to perform if you do not want to become a victim of cyber criminals. The plugin itself is not malicious at all; however, the link to third-party advertisers is quite disconcerting. If you want to use online coupons – visit zendeals.com and utilize the deals which are listed on the website. To remove the plugin from the computer use the manual instructions below.
Remove the undesirable program
Remove from Windows 8:
Right-click on the background of the Metro UI start screen and select All apps.
Open Control Panel to list Windows utilities and click Uninstall a program.
Right-click the program you want deleted and select Uninstall.
Remove from Windows Vista and Windows 7:
Move to the left of the Task Bar and click Start.
From the appeared menu select Control Panel and click Uninstall a program.
Right-click the application you want to delete and select Uninstall.
Remove from Windows XP:
Open the Start menu and select Control Panel to open a new menu.
Double-click Add or Remove Programs to locate all of the undesirable programs.
Click the unwanted app and select Remove. Repeat the step for all undesirable applications.
In non-techie terms:
ZenDeals is a suspicious browser plugin which can flood your web browsers with various advertisements. In order to have the program deleted from the system use the instructions presented above. To ensure that the entire operating system is guarded against schemers and malevolent scams – install authentic, reliable, automatic malware detection and removal software.
Aliases: Zen Deals.