Do you know what Zebar Ads are?
You should be alarmed by Zebar Ads because they are unexpected and unpredictable. Even though it is not known whether the browser extensions responsible for these advertisements may be installed onto the computer illegally, it is now clear that computer users download it without fully understanding its activity. In fact, since metalzebar.com does not offer a working installer, computer users are usually introduced to the program when installing packaged software. Even though installing unfamiliar programs is not recommended, many acquire the plugin believing it is useful. If you do not want to worry about getting Zebar Ads deleted, you should not install the application in the first place. Fortunately, you can remove the suspicious program if you have acquired it already.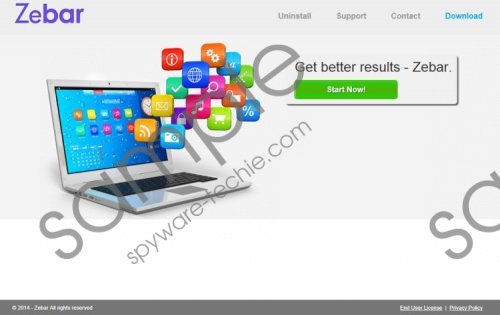 Zebar Ads screenshot
Scroll down for full removal instructions
When downloading unfamiliar software, the first thing you should do is check the Privacy Policy. The one related to Zebar may surprise you quite a bit. As it turns out, SuperWeb LLC (the developer) is related to third parties and allows them to collect information about you. It is unknown what specific data these unknown parties may have access to; nonetheless, you need to be careful. In the worst case scenario, if you do not remove Zebar related cookies, private information, like passwords or friends' contacts could be leaked. Keep in mind that this may be linked to other SuperWeb applications, like NetTock or Webrunn, as well. Are you worried about the removal of these applications? Luckily, they all work in the same manner and can be deleted using the same techniques. Have no doubt that you do need to delete these advert-support programs; otherwise, the potentially misleading ads and offers will keep flooding.
You should remove Zebar Ads from the browsers simply because they promote the services of third parties who are unknown and who may have hidden intentions. To delete the advertisements, you can use the manual removal instructions below because they show you how to delete adware producing them. Unfortunately, in some cases these removal guides may be helpless if adware components are separated from the uninstaller or if other dangerous threats are running on the PC. Luckily, automatic malware removal software is available, and you should install it right away.
Delete Zebar from Windows
Delete from Windows 8:
Right-click on the screen of the Metro UI menu and select All apps.
As the Apps menu shows up – click Control Panel and then Uninstall a program.
Now right-click the program you wish to remove and select Uninstall.
Delete from Windows Vista & Windows 7:
Move the cursor to the left of the Task Bar and click the Start menu icon.
Open the Control Panel and select Uninstall a program to find Zebar.
Right-click and Uninstall you wish to remove from the operating system.
Delete from Windows XP:
Open the Start menu by clicking the button on the Task Bar.
Select Control Panel and then double-click Add or Remove Programs.
Finally, Remove the undesirable computer application.
In non-techie terms:
Computer users should remove Zebar Ads because they are unreliable and can disrupt the web browsing in a serious manner. We suggest using automatic malware removal software to delete adware and other unreliable applications which may be corrupting your personal computer. Even if your PC is barely running, you can install this software. All you have to do is follow the instructions below.