Do you know what Zaxargames is?
Zaxargames is another name for Zaxar Games Browser. This application allows used to play online flash games on zaxargames.ru website. It is a free of charge application that is not related to computer viruses, but it would be in your best interest to remove Zaxargames from your computer at once. There is a reason Zaxargames is categorized a potentially unwanted program, and that is because its script is faulty, and most of the games for it come with tons of adware. Adware should not be tolerated because it often exposes users to malicious content.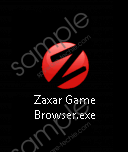 Zaxargames screenshot
Scroll down for full removal instructions
Our research lab team says that Zaxar Games browser does not work properly anymore. Its faulty script might be responsible for it. If Zaxargames were to function properly, the program should enable users to communicate with other gamers via Zaxar platform. You should also be able to play all the games you have downloaded via this website, and on top of that – the program is said to be able to protect your operating system against various malware attacks. That is certainly a claim that has come out of the blue, considering that the program just does not even function anymore.
If you have not installed Zaxargames on your own, but you still see the program running (it has an auto-run), it means that the application was installed automatically with some other freeware application. It is common for such program to travel in packs. If you have recently installed a new program on your computer, you should double-check whether Zaxargames was not one of the additional apps that came with it.
Naturally, Zaxargames app is not a computer infection, and it does not pose a direct system security threat. However, it supports a lot of games that come with adware programs, and adware programs are always rather fishy. They may bombard you with commercial ads, and, as a result, it would slow down your internet connection and your computer performance. Zaxargames also connects to the Internet behind your back, and you can never know what kind of information it shares with third parties.
When you remove Zaxargames via Control Panel, you have to remember that there will be a lot of leftovers remaining on your system. Not everything can be removed manually. Also, if you are not an experienced computer user, you should not try terminating all the registry keys and entries via Registry Editor. Your best option in this case would be acquiring a legitimate computer security application that would help you scan the system and then terminate all the potential threats.
How to remove Zaxargames
Windows 8
Move mouse cursor to the bottom right of your desktop.
When Charm bar appears click Settings and go to Control panel.
Select Uninstall a program and remove Zaxar Games Browser.
Windows Vista & Windows 7
Open Start menu and select Control Panel.
Go to Uninstall a program and remove Zaxar Games Browser.
Windows XP
Click Start menu button and navigate to Control Panel.
Open Add or remove programs and uninstall Zaxar Games Browser.
In non-techie terms:
Zaxargames is an application that should help you play online games at zaxargames.com. However, this application is not very reliable because it is directly related to adware and freeware programs. Remove Zaxargames from the system and ensure your PC is protected from harm. For full unwanted software removal instructions, please check out below this description.