Do you know what Z-Zip is?
Should you identify Z-Zip as a malicious program? You should not; however, it is very important that you learn how this program works and what the reasons for removing it from your operating system are. Based on our research, we classify Z-Zip as a potentially unwanted program (PUP). Although this strange application does work as a file compressor, it also shows ads, collects information about you, and opens up security backdoors. Would you associate this kind of information with a reliable program? You probably would not, and this is why you might choose to remove Z-Zip. Are you still unsure, and do you need more facts about this suspicious app? If so, continue reading this report.
ElementSoft is represented as the publisher of Z-Zip. There are some facts indicating that this company was made up by the developer of ZipperPro, VAFCompressor, and other suspicious PUPs that require removal. Nevertheless, all of these programs are represented as original products, and we test them individually. Z-Zip is represented at z-zip.net, but the installer of this PUP is available from third-party sources as well. Although, as a rule, it is safer to use authentic sources, we do not recommend installing this PUP at all. In both cases, third-party programs could come bundled with this PUP, and, if you do not know whether these programs require removal, you should decline them. In the worst case scenario, malware will be installed silently, and you might not know that you need to delete it.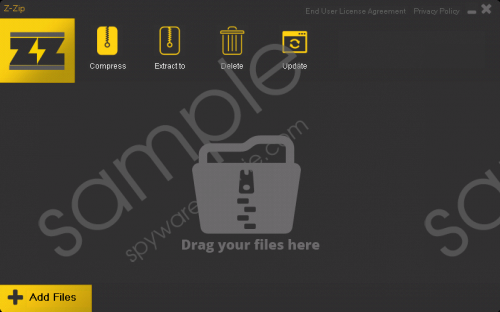 Z-Zip screenshot
Scroll down for full removal instructions
Have you seen pop-ups and other suspicious kinds of ads that route to third-party sources? You can blame Z-Zip for this. Our researchers have found that this potentially unwanted program injects ads hosted by third-party adware servers, and there is no way of knowing if malicious parties can use them to display misleading offers. Of course, some ads shown to you will clearly be untrustworthy, but are you sure that you will recognize unreliable ads in all cases? Your browsing history could be recorded to learn what kind of information you are interested in, and this could be used to conceal corrupted ads. This is another thing to think about if you are trying to figure out whether or not you should delete Z-Zip.
Now that you know how Z-Zip works, do you want to delete it? Fortunately, the removal process is quite straightforward, as you need only to uninstall this PUP. What about other unreliable programs? Can you uninstall them just as easily? Unfortunately, the programs installed along with this PUP might require different removal methods, and, if you are not sure you can handle manual removal, we advise using a reliable antimalware tool. Keep this tool installed for reliable protection in the future.
Remove Z-Zip from your PC
Remove from Windows 10, Windows 8, Windows 7, and Windows Vista
Tap Win+R on your keyboard to launch the RUN dialog box and enter Control Panel.
In the Control Panel menu move to Programs and click Uninstall a program.
Locate the unwanted program you want to delete, right-click it, and choose Uninstall.
Remove from Windows XP
Move to the left of the Taskbar and click the Start button.
Open Control Panel and move to the Add or Remove Programs menu.
Go to Change or Remove Programs, select the unwanted one, and choose Remove.
In non-techie terms:
Z-Zip is truly suspicious, and not only because it runs very similarly to other unreliable PUPs. This program has been found to spy on its users and introduce them to third-party ads, not all of which can be trusted. The removal of this PUP is unlikely to pose many questions, but it is important to address the software that could have been installed along with it as well. Can you remove it manually or are you going to use the automated removal option? Note that you should return to your regular computing only after you remove Z-Zip and its clones, and reinforce the protection of your operating system.