Do you know what Yourwebing.com is?
Yourwebing.com is a homepage that you do not want to find in your browser. If you do, there is no doubt that a malicious browser hijacker has found its way into your operating system. Fortunately, this infection does not affect the operating system, and it only modifies the Target of browser shortcuts, which makes the removal of this browser hijacker quite straightforward and easy. If you are not sure why you need to delete Yourwebing.com, please continue reading this report. We discuss the distribution, activity, and the removal of this browser hijacker. Once you are familiar with this information, you should have no trouble deciding how you want to handle the suspicious search tool.
Most users are surprised to find Yourwebing.com installed on their Chrome, Firefox, and IE browsers because this browser hijacker is silent. Of course, this threat does not appear out of nowhere. Our research has revealed that the hijacker is usually downloaded bundled with other programs that are represented at filefoxdownloader.com. If you do not want to encounter malware, it is crucial that you stay away from unreliable software installers and file-sharing sites; otherwise, it is only a matter of time before you find that you need to delete malware corrupting your operating system. Another thing to keep in mind is that Yourwebing.com might not be the most dangerous infection on your PC. Even though this search tool might expose you to unreliable search results – even if it redirects to Google Search – and spy on you using tracking cookies, the programs installed along with it could be more dangerous.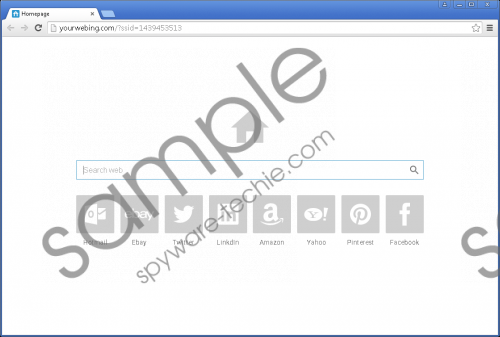 Yourwebing.com screenshot
Scroll down for full removal instructions
Even though we do not know what kind of malware was installed along with Yourwebing.com onto your computer, you can expect to find adware, potentially unwanted programs, clandestine Trojans, and other infections. Needless to say, the infections installed along with this hijacker require removal as well. Our research team has also found that malicious software can be bundled with such browser hijackers as foryourweb.net and your-home-page.net. Both of these hijackers are identical to Yourwebing.com, and it is possible that they were created by the same company.
We are sure that you want to remove Yourwebing.com from your browsers. This browser hijacker might look harmless, but not a single program capable of entering your PC without your permission should be considered as harmless. We suggest following the guide below to delete Yourwebing.com from your browsers. This guide might seem very simple, but you might have to repeat the same instructions for many infected shortcuts. Do not forget to modify the Targets of shortcuts on the Taskbar and the Start menu as well. We suggest trusting automated malware detection and removal software to delete the infections that could have attacked your operating system.
Delete Yourwebing.com
Identify the corrupted shortcut.
Right-click the shortcut and select Properties.
Click the General tab and move to Target.
Remove the Yourwebing.com URL and click OK.
In non-techie terms:
It is clear that Yourwebing.com is a browser hijacker if it has corrupted your operating system without your permission. Regardless of how harmless or attractive this search provider might be, you must delete it without further hesitation. We recommend installing automated malware removal software to get rid of the infections that could have been carried in the same software bundle, but we are sure that you will be able to remove Yourwebing.com manually.