Do you know what Your Computer Was Automatically Blocked is?
VirLocker Ransomware is a malicious infection that will encrypt your personal files and will present the Your Computer Was Automatically Blocked warning notification that can cover your entire screen. Needless to say, the clandestine ransomware needs no permission to corrupt your operating system. In fact, this devious threat can use various drive-by download scams to attack your operating system. If the attack is successful, the infection will reconfigure the Windows registry and will block the running of executable files. This will not only paralyze your operating system and make it very difficult to delete the Your Computer Was Automatically Blocked warning, but will also block your files.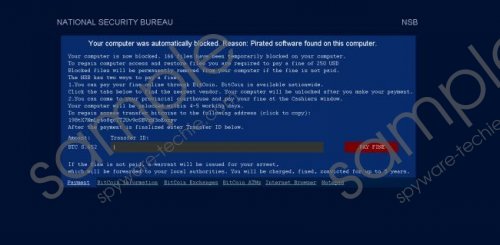 Your Computer Was Automatically Blocked screenshot
Scroll down for full removal instructions
The devious ransomware can infect executable files and overwrite them to make them unusable. Unfortunately, the ransomware can corrupt your personal documents, videos, photos, and other files as well. The threat turns these files into executables and then corrupts them. Needless to say, this activity can stop you from removing VirLocker Ransomware; however, many computer users may have no idea that the removal of some ransomware is necessary because of the misleading Your Computer Was Automatically Blocked warning. The fictitious warning will indicate that the National Security Bureau has detected pirated software on your operating system. The National Security Bureau is a Chinese organization, and if you do not live in China, you should not think that it will have any privileges to block your operating system. This is just a scam to make you think that the Your Computer was Automatically Blocked notification is real and should be taken seriously. If the scam is successful, you will be tricked into thinking that your personal files will be deleted unless you pay $250 using the BitCoin payment system. Needless to say, you must remove malware, not give up your savings.
Automatic malware removal software cannot recover the corrupted files; however, it can delete the malicious VirLocker Ransomware. If you delete the infection, you will remove Your Computer Was Automatically Blocked notifications as well. Needless to say, you should not rush with the removal until you make the decision about the blocked files. Can you restore these files yourself? Do you have backups of all the important personal files? If you do not, you should try decrypting the files, and our malware analysts recommend researching tools that could help you. Do not forget that the infection could corrupt your files again, and so you need to install automatic malware removal software as soon as you files are decrypted, if you find the right software to decrypt them. Here is how you can remove Your Computer Was Automatically Blocked-related malware from your PC.
Delete VirLocker Ransomware
Find a secure Windows operating system.
Visit http://www.spyware-techie.com/spyhunter and click the Download button.
Copy the installer to a removable device (e.g., USB flash drive).
Restart the computer affected by the VirLocker Ransomware.
Immediately start tapping the F8 key as soon as BIOS screen loads up.
Using arrow keys select Safe Mode with Command Prompt and then tap Enter.
Navigate to C:\Windows\system32\ and enter cd.. to launch the C:\Windows line.
Enter explorer.exe to launch the Windows Explorer.
Now copy the installer of the automatic malware removal tool SpyHunter onto your PC.
Install the application, run a system scan, and remove the discovered threats.
Restart your PC in a Normal Mode.
In non-techie terms:
Your Computer Was Automatically Blocked is an intimidating warning that will be presented to you as soon as the VirLocker Ransomware corrupts your system and blocks the executable files. You must not pay any attention to the demands presented via this warning, because they are misleading. Unfortunately, the clandestine infection can encrypt your personal files, and this is not something authentic security software can fix. Whether you find the software that can help you decrypt the corrupted files or not, you must delete Your Computer Was Automatically Blocked-related software, and our removal instructions will help you.