Do you know what Youhomepage.org is?
If your default browser keeps opening with a suspicious website Youhomepage.org, this suggests that a browser hijacker has already entered the computer. It is the one responsible for opening your browser with a new page automatically. This website is in Russian, so, most probably, it targets Russian-speaking users primarily. At first glance, it seems to be a harmless news website with a search box in the middle, but it is definitely not innocent. Actually, this browser hijacker not only keeps opening Youhomepage.org, but might also redirect users to hxxp://6yxzz.allaff.quinquina.xyz/?sov=87987181&hid=fhtrlnphfhjjnjnnv&v=316G3249FF&rt=1&redid=15432&gsid=444&campaign_id=148&id=XNSX.278967621127-r15432-t444&impid=82b4ac1e-ed1e-11e6-a253-cae258990218, which is an untrustworthy website offering users to take surveys in order to get "a chance to win HD Streaming Movies." It is not the only website users might be taken to. As research has shown, redirections to dubious websites serving ads and surveys might happen every 33 minutes because this computer infection creates a certain task httpyouhomepageorgbirdsm in the Task Scheduler. Luckily, you can stop these redirections to Youhomepage.org and irritating websites with surveys. Information about the deletion of a browser hijacker is located in the last paragraph. Also, there is the manual removal guide placed below this description. You are welcome to use it after reading the Youhomepage.org description.
Youhomepage.org is a Russian website, but it will be opened for users if they allow a browser hijacker to enter their PCs no matter where they live. At first, it might look like a harmless website providing the latest news. Also, it has a search box which displays Google search results, so users do not even suspect that the website which they see every day might cause a number of problems. Of course, it will not do anything bad if users ignore it; however, if users click on links they see to open news and use the search box located in the middle of the page, there is a slight possibility that security-related problems will emerge for them. Most probably, these problems will be associated with untrustworthy third-party links provided for users. They might appear in the form of interesting articles to lure users into clicking on them, or they might be presented as search results. These untrustworthy links are provided for users just to drive the traffic to certain websites. Most probably, the developer of this browser hijacker receives money for these users' clicks and visits to third-party websites, and the main purpose of Youhomepage.org is to serve those links. In the opinion of our experienced specialists, these links should be completely ignored because they are dangerous in a sense that they can redirect users to corrupted websites at any time. Users will not encounter them ever again if they remove a browser hijacker from their PCs.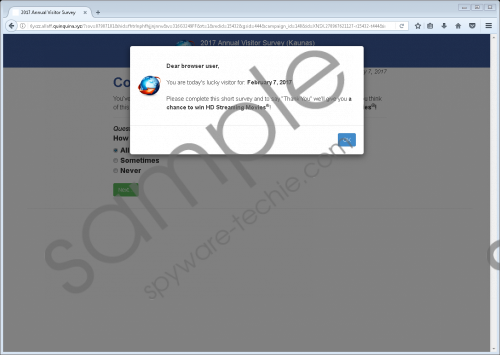 Youhomepage.org screenshot
Scroll down for full removal instructions
The Youhomepage.org browser hijacker is spread in bundles with Russian applications primarily, according to researchers who have tested this infection. These bundles are promoted on file-sharing, torrent, and similar websites, so users often get this infection from these pages when they try to download some kind of free application, e.g. a video player. Once this browser hijacker is inside the computer, it immediately creates a new Task httpyouhomepageorgbirdsm in C:\Windows\system32\tasks so that it could then keep opening Youhomepage.org and redirecting users to websites offering to take surveys. Fortunately, other serious modifications are not applied, so users should be able to eliminate this computer infection manually themselves. After getting rid of it, hurry to install a security application so that a new similar threat could not enter the system.
Not all the websites looking trustworthy are really good. The same can be said about Youhomepage.org, which will automatically be opened for users if they allow a browser hijacker distributing it to enter their computers. Even though it might look like a harmless news website, the truth is that security and even privacy-related problems might arise if users do not do anything to eliminate it. If our article has already convinced you that the Youhomepage.org removal is an unavoidable step, go to get rid of it today. Follow the removal instructions you will find below this article, or use SpyHunter (an automatic malware remover).
Delete Youhomepage.org manually
Remove the created Task
Press Win+E.
Open C:\Windows\system32\tasks.
Locate the Task httpyouhomepageorgbirdsm in the Task Scheduler and remove it.
Reset the default browser
Internet Explorer
Open the browser and go straight to the Tools menu.
Click Internet Options and open the Advanced tab.
Click Reset.
Mark the box next to Delete personal settings.
Click Reset one more time.
Mozilla Firefox
Launch Mozilla Firefox.
Press two buttons Alt+H simultaneously to open the Help menu and click Troubleshooting information.
Click on the Refresh Firefox button to reset your browser to its default settings.
In the pop-up window you see, click Refresh Firefox again.
Google Chrome
Launch your browser.
Press Alt+F to open the menu and then select Settings.
Scroll down.
Click Show advanced settings.
Click Reset settings.
Click on the Reset button.
In non-techie terms:
We cannot guarantee that there are no other untrustworthy programs left installed on your PC after getting rid of a browser hijacker promoting Youhomepage.org. It is because this infection has slithered onto the computer together with other Russian applications, which, unfortunately, might be untrustworthy too. They might track users, perform undesirable activities, e.g. show irritating ads, and even help other suspicious applications to enter the computer unnoticed.