Do you know what Yougoo.fr is?
Yougoo.fr is an unreliable search engine that targets French-speaking computer users. Finding this website as you home page after launching your browser may indicate that your computer has been infiltrated by a browser hijacker. Since it is possible that this hijacker makes arbitrary changes to your browser settings, its presence may be totally illegal and a breach of your privacy. As a matter of fact, you practically lose control of your browsers as you will have to put up with the possibly unwanted changes. Unless, of course, you step up and act. We recommend that you remove Yougoo.fr from your computer since this hijacker may pose a threat to your virtual security. If you do not want to find out yourself what may happen when you land on malicious websites, we suggest that you read our full report to understand the risks and what you can do to avoid them.
It is very important that you make it a habit to always research the application you want to download and install on your PC because otherwise you may end up on suspicious freeware sites or torrent pages downloading infected bundles that may accommodate a number of malware threats. Usually you can figure out if an application is worth downloading in a few minutes, sometimes even less. It is enough to enter the name in Google, for example, and if it is an infection, you may find links even on the first page leading to sites that will tell you about how you should remove Yougoo.fr or any particular tool you are searching for. Of course, it all depends on the name, too. If the name contains generally used words, you may have a hard time finding anything. But still, it is the best you can start with if you want to prevent malware from entering your computer.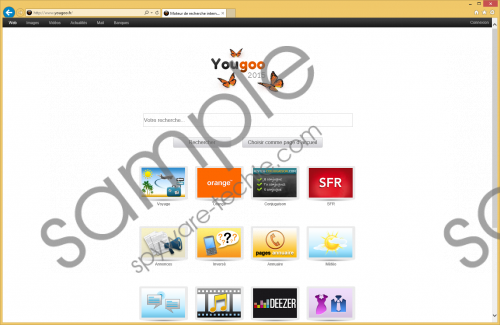 Yougoo.fr screenshot
Scroll down for full removal instructions
Another thing you can be more cautious about is the website you choose to download your software from. If you do not want to download malicious bundles from shady file-sharing websites, you had better sticking to reputable and familiar sites. However, if you happen to install a whole package of "nasties," the best thing you can do is to delete Yougoo.fr and identify all other threats present. You can do this by running a free online scanner, for instance. But you can also check your installed programs list in Control Panel and the list of extensions in your browsers. Of course, this way you can find most of adware applications or potentially unwanted programs, browser hijackers, but you will not be able to detect more dangerous infections, such as Trojans. For a deeper system scan, we advise you to go with a professional malware scanner or antimalware software.
This search engine presents to you potential security issues on its main page with the widgets or quick-access third-party links it displays below the search box. These may include promoted websites that may potentially lead to unreliable pages and thus introduce you to dangerous web content. Apart from these links you cannot trust the search tool either. This hijacker can collect information about you that can be used to make a profile and send you customized ads and links even through modified search results. You will not be able to tell the difference between a legitimate link and one that redirects you to a malicious website. Therefore, we suggest that you remove Yougoo.fr before you click on a malicious link and get scammed by cyber criminals, which can cost you money but you might also become a victim of identity theft.
In order to turn off this fountain of potential threats, we believe that the easiest thing to do is to reset all your browsers. This way all the undesirable setting modifications will be reset to default. Please use our instructions below if you need help with this. Although you may be able to remove Yougoo.fr from your PC without any leftover, there may be other malware infections as well that need your immediate attention. If you are not an expert or experienced user we do not recommend going after each and every one of them manually. Therefore, we suggest that you use a trustworthy antimalware tool that will protect your PC against all existing malware threats.
Yougoo.fr Removal from Browsers
Google Chrome
Press Alt+F and open Settings.
Click Show advanced settings at the bottom.
Click Reset settings at the bottom.
Press Reset.
Internet Explorer
Press Alt+T and choose Internet Options.
Click on the Advanced tab and press Reset.
Select the Delete personal settings checkbox.
Click Reset and click Close.
Mozilla Firefox
Press Alt+H and select Troubleshooting Information.
Click Refresh Firefox.
Click Refresh Firefox again in the pop-up window.
Press Finish.
In non-techie terms:
Yougoo.fr is a French search engine that hijacks your browsers and may introduce you to questionable third-party web content that may endanger your virtual security. It is quite possible that this browser hijacker shows up on your computer in a bundle including other malware infections as well. Therefore, it is important that after you remove Yougoo.fr, you take action against the remaining threats as well. This is the only way to restore your security. We suggest that you use a reliable security tool to do that if you are not an expert user.