Do you know what Youfreenews.net is?
Our cyber security experts have recently come across an ad server that was dubbed Youfreenews.net. This ad server is active since the 1st of May, 2017 and our researchers have found that this particular server is oriented towards Russian speaking countries. This ad server can show you many advertisements of questionable legitimacy. The bad news is that this ad server can enter your PC secretly and start showing ads without your consent. Therefore, we suggest that you remove it from your PC before anything bad happens. For more information on this ad server, please read this whole article.
Before we go any further, we want to talk about how this ad server can get onto your computer. Malware analysts have concluded that you can get Youfreenews.net as a result of installing a malicious software bundle that also installs this ad server by stealth. Researchers have found the particular type of bundle that features this server is the installmonstr/installmonster software bundle. This deceptive software bundle can be named as FlashPlayerPro.exeJava, Plugin.exe, MaxTorrent.exe, FFPsetup.exe, install_flashplayer11x32_mssa_aaa_aih.exe, t5235.torrent.exe, and possibly many others. This bundle is known to communicate with several domains such as tmserver-1.com, naum.klerose.ru, word-model.top, cdn.telomor1.com, and opticisopositive.link. This bundle is also known to feature software such as MediaPlayAir andThe Desktop Weather 2.0.1.11332. So you ought to be aware that when installing the aforementioned software, your PC might also become infected with Youfreenews.net.
If Youfreenews.net gets onto your PC, then you should know the manner in which it will function. Researchers say that it be added as a startup object to start alongside Microsoft Windows or might be added as a scheduled task to open every hour. Whatever the case may be the outcome of having it on your PC will be constant redirections to ad servers. We have found that it will redirect you dozens of servers. For example, Youfreenews.net will redirect you through linkmyc.com, wonderlandads.com, ovsusy.info, go.leadgid.ru. It will then redirect you to sites such as traff1.ru, traff-1.ru, atraff-2.ru, atraff4.ru, atraff5.ru, and dozens of others. We have found that it will promote Russian language websites. However, testing has shown that it can sometimes redirect you to sites such as Videodownloadconverter.com that features a potentially unwanted program called Video Download Converter produced by Mindspark Interactive Network, a known developer of unreliable software that modifies browser settings to show ads.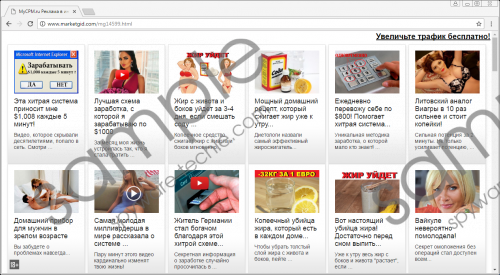 Youfreenews.net screenshot
Scroll down for full removal instructions
As you can see, this ad server can show rather unreliable ads that can redirect and continue redirecting to all kinds of shady websites. Therefore, we believe that you need to get rid of this ad server as soon as possible as its ads are annoying and will hamper your browsing experience. However, most importantly, the ads come from unreliable sources and, thus, your PC can become infected with malicious software such as adware, browser hijackers, and so on. If you want this ad server to be removed from your PC, then we suggest that you get our featured anti-malware tool called SpyHunter and use its free scanner to detect all malicious files and delete them manually.
Removal Guide
Visit http://www.spyware-techie.com/download-sph
Download SpyHunter-Installer.exe and install it.
Run it.
Click Scan Computer Now!
Copy the file path of the malware from the scan results.
Press Win+E keys.
Type the file path of the malware in File Explorer's address box.
Press Enter.
Locate and right-click the malicious files and click Delete.
Empty the Recycle Bin.
In non-techie terms:
Youfreenews.net is a malicious adware server that was designed to show you and redirect you through various ad-featuring domains in order to generate advertising revenue. While this adware server is distributed via malicious software bundles aimed at Russian speaking users you might get it as well and if you do, then you should remove it to avoid getting into contact with malicious content.