Do you know what Youfoundit.net is?
You do not want to find Youfoundit.net in your browsers because that would mean your computer is under attack by a browser hijacker malware infection. And that is not good news, according to our researchers. This search engine is rather suspicious and may act unreliably. It may put your virtual security at risk by showing you potentially questionable third-party ads or links, which are supposed to generate money for the creators depending on the number of times you click on them. Therefore, you cannot leave this hijacker on your computer because you would be continuously exposed to potential risks. That is why we advise you to delete Youfoundit.net from your browsers and set a new home page that you prefer and trust.
There is no dedicated website where you would find a standalone file, an application that sets this search engine as your home page. This hijacker, just like most of its kind, is most commonly distributed via free software bundles that contain malicious software installers. A lot of people believe that malware programs sneak onto their computers silently in some mysterious ways, but the truth of the matter is that most of the time it is the user who actually downloads and installs them. So, if your computer is infected with this useless hijacker, it is quite possible that you have been looking for freeware to download recently. Maybe you have installed one already, but you did not realize that the package included several other components as well, namely, malware infections. Therefore, it would be wise to delete Youfoundit.net and run a full system scan to determine the number of threats that make your computer insecure.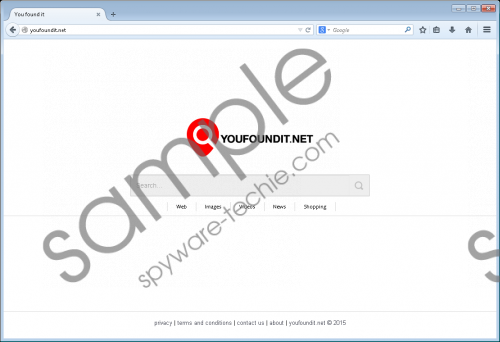 Youfoundit.net screenshot
Scroll down for full removal instructions
As a matter of fact, this search engine may not even function properly and fully. It may be dependent on location, but, according to our researchers, this search tool may not display normal or reliable results at all. As you can read on the "about" page, the main purpose of this search engine is to marketing and online advertising to generate web traffic for affiliated websites. And that means third-party ads and sponsored links in other words. However, these are never fully reliable since you cannot know who is really behind the ads. What if cyber criminals pose as third parties and lure you onto their malicious websites? We recommend that you remove Youfoundit.net before such an encounter would take place.
This browser hijacker has no uninstaller; therefore, you cannot eliminate it that easily via Control Panel. You need to overwrite the home page URL settings or restore them to default in order to clean Youfoundit.net from your computer. Please use our guide below if you are not familiar with browser settings. Also, keep in mind that updating your programs and drivers is essential in the fight against malware and cyber criminals. But if you want proper protection, we advise you to download and install a reputable malware removal application. For full-time protection you need to keep this tool updated, too.
Remove Youfoundit.net from your browsers
Mozilla Firefox
Press Alt+T and access Options.
Select General on the left.
Click Restore to Default or overwrite the URL.
Internet Explorer
Press Alt+T and open Internet options.
On the General tab, press Use default or overwrite the URL.
Click OK.
Google Chrome
Press Alt+F and choose Settings.
Under On Startup, click Open a specific page or set of pages and click Set pages.
Set a new URL.
Click OK.
In non-techie terms:
Youfoundit.net is a completely useless, yet potentially harmful search engine that invades your privacy and sets itself as your new home page in your browsers without your consent. The main goal of this browser hijacker is to promote third-party websites to generate web traffic. Therefore, it may start displaying advertisements and sponsored links instead of reliable search results. What's more, this hijacker may arrive onto your PC along with other malware threats. You need to act now if you want to feel secure while using your computer. You should remove Youfoundit.net and all the other possible threats. We recommend that you use an authentic antimalware tool for automated infection removal and the protection of your virtual world.