Do you know what You-boost is?
You-boost is supposed to be a media download accelerator, but, unfortunately, you cannot trust this application since it might expose you to unreliable web content. Due to its questionable functions and traits it has shown, our researchers have decided to categorize it as a potentially unwanted program (PUP). This means that this application is not a big threat to your computer directly; however, it has potential to indirectly put your virtual security at risk. A lot of users have PUPs on their computers and a lot of times they may not even realize these applications' presence. It is possible because most of these PUPs, You-boost included, are mainly distributed in freeware bundles, which means that this PUP may be just one of several tools and applications that the user installs. Since these software packages may carry a number of malware infections as well, if you find this PUP on board, you may want to run a system malware check on a "just in case" basis. But before you do so, we advise you to remove You-boost because our researchers have found this PUP quite risky to have. Please read our full report to understand why we consider this innocent-looking program a potential threat and to find solutions against similar attacks.
The first suspicious signs about this PUP arise once you want to visit its promotional web page at you-boost.com. We do not think, though, that too many computer users could find this site running a web search on such tools. However, let us assume you somehow learn about this URL and want to check it out; guess what happens. Two of the three major browsers, Google Chrome and Mozilla Firefox will block the page right away – which may be due to certain browser settings – because of potentially harmful content. This is what Chrome tells you about it: "Attackers on you-boost.com might attempt to trick you into installing programs that harm your browsing experience," and here is the warning message from Firefox: "Unwanted software pages try to install software that can be deceptive and affect your system in unexpected ways." Well, this does not sound too good, and definitely does not suggest you that you should have this application right away. Interestingly enough, Internet Explorer loads the page without further ado. But, if you care about your virtual security, this is a typical red flag situation that makes you want to move on to search for a more reliable tool. However, if you have already installed this PUP either knowingly or not, this may be a good time to consider removing it.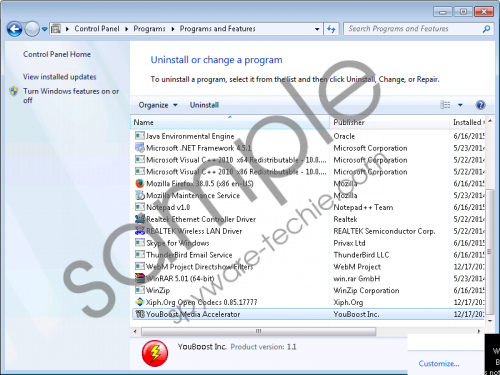 You-boost screenshot
Scroll down for full removal instructions
It is also important to mention that even if you can load this promotional page, there is no way for you to download the application. There seems to be no button, no link, nothing. Apart from a few lines of information about the product, you will find nothing on this page. But at least you will learn that You-boost is an "ad supported media compression engine." While it may sound awesome, you still cannot even download it. "So how does this useless PUP spread then?", you may ask. And we would say: "In freeware bundles, of course." According to our researchers, this distribution method is used in the USA and Europe as well. Unfortunately, this is a rather questionable method that is misused by schemers, who pack malware software installers together with legitimate free software. That is why it is quite likely that your computer has been infected with a bunch of these "bad guys," including adware applications, browser hijackers, and more PUPs, which are the most common "passengers" to travel in these bundles.
Inexperienced computer users easily get lured into visiting questionable and unreliable websites, such as freeware, torrent, and pornographic sites. They usually end up on such pages while looking for a new free tool or software they want to install. However, there are a lot of fake file-sharing sites out there that only want to promote third-party websites and products to you, which may be totally unsafe, of course. Clicking on advertisements, links, or practically any content could lead to downloading such infected bundles. Therefore, you should stay away from such websites to preserve security and order on your computer. If you are experiencing such multiple-threat invasion right now, you should delete You-boost first, and then check your operating system for other threats.
This application does not even have a GUI (Graphical User Interface) and it seems to operate through two processes called ybint.exe and amon.exe. These executables you can find in the C:\Program Files (x86)\You-Boost folder if you are using a 64-bit system; otherwise, they will be in C:\Program Files\You-Boost. Our researchers have noticed that these files download a portable chromium browser silently in the background, i.e., without your knowledge or permission. This is a legitimate browser used by this PUP to show advertisements, including pop-up ads, and also can start to play promoted YouTube videos. Unfortunately, these ads may be unreliable and if you click on them, you may be redirected to malicious websites. Therefore, apart from being rather annoying with such behavior, this also makes it a potentially harmful application. That is why we think that you should remove You-boost from your computer.
We can offer you a couple of ways to eliminate this PUP. The simplest solution is to use the working uninstaller via Control Panel. This should take care of all the files and registry keys this PUP creates. However, if you are a more experienced computer user and would like to clean this mess up manually, you can also do that by deleting certain registry keys and folders. Please keep in mind that modifying or removing the wrong registry keys might lead to irreversible damage to your operating system. If you need assistance with the removal, please use our step-by-step instructions below. If you want to protect your computer effectively from malware invasions, we suggest that you use a reliable antimalware application.
You-boost Removal from Windows
Windows XP
Click the Start button and select Control Panel.
Pick Add or Remove Programs.
Click on the program and press Remove.
Windows Vista and Windows 7
Tap Win+R and enter control panel. Hit OK.
Access Uninstall a program.
Click on the program and press Uninstall.
Windows 8, Windows 8.1, and Windows 10
Tap Win+Q and enter Uninstall a program. Press Enter.
Click on the program and press Uninstall.
Manual Removal
Press Win+E to launch Windows File Explorer.
Locate and delete these folders: C:\Program Files (x86)\You-Boost (64-bit only) and C:\Program Files\You-Boost.
Locate C:\Windows\SysWOW64 (64-bit only) and C:\Windows\System32, and delete the following files: mscl.exe, chdl.zip, updbrw.vbs, bhnd.vbs, and slp.bat.
Press Win+Q and type in regedit. Hit Enter.
Locate and remove the following registry keys:
HKEY_LOCAL_MACHINE\SOFTWARE\Wow6432Node\Microsoft\Windows\CurrentVersion\Uninstall\YouBoost Manager (64-bit only)
HKEY_LOCAL_MACHINE\SOFTWARE\Microsoft\Windows\CurrentVersion\Uninstall\YouBoost Manager
Exit the editor.
In non-techie terms:
You-boost is a potentially unwanted program due to certain functions it shows. This application may present to you unreliable web content through third-party advertising it manages through a portable chromium browser, which is downloaded and installed by this PUP. Since this program is mainly spread in software bundles, chances are that your computer has been infected with more serious threats than this PUP itself. If you want to avoid more infections or even being scammed by cyber criminals, we advise you to remove You-boost and all other potential threats there may be on your PC. If manual removal is not your cup of tea, we can offer you an automated solution called SpyHunter. This antimalware application will automatically detect and eliminate all known infections and protect your PC from further attacks.