Do you know what Yotosearch.com is?
Yotosearch.com is an extremely suspicious search engine that might modify the settings of your browser. If you have found this strange search tool replacing your homepage, New Tab, or even default search provider, you need to think whether or not these changes were made with your consent. Well, even if you gave this search engine the permission to readjust your browser, you should consider deleting it. Are you surprised by that? There are two main reasons why our research team recommends removing Yotosearch.com, and they are both discussed in this report. Please read carefully, and you will be able to decide for yourself whether or not you should get rid of the suspicious search tool. If you have already made up your mind, and you want to erase it from your browser, check out the guide below. Also, if something is not clear, use the comments section to start a discussion.
According to our research, Yotosearch.com is gaining popularity quickly, and it is currently spread all across the US. Of course, you might face it even if you live in a different country. How did you face it? Was it introduced via a software bundle, by which we mean that it was offered along with other programs? If that is the case, have you examined these additional programs? If you have not, it is high time you did because they could be even more suspicious. In fact, they could be dangerous, and you might have to remove them as soon as possible. Install a trusted malware scanner, and you will know in no time if you need to eliminate malicious infections or potentially unwanted programs. Hopefully, other infections do not exist, and you can dedicate all of your time to the suspicious Yotosearch.com. Although it is represented as "all search engine in one" – which makes it sound powerful – it is quite useless and unpredictable.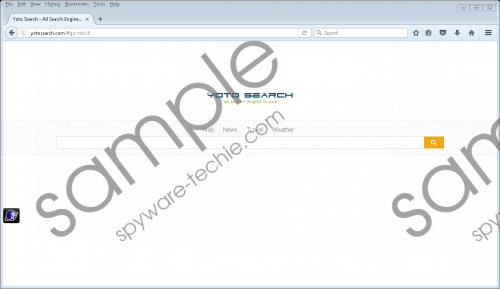 Yotosearch.com screenshot
Scroll down for full removal instructions
Have you used Yotosearch.com already? If you have, you know that it employs Google Custom Search to show the search results you request; however, they could be modified to promote unreliable offers. The Web search tool redirects to a page with the Google logo at the top. The News, Travel, and Weather search tools redirect to the search tool-related pages. All of them include suspicious banner advertisements. In fact, you can also face banner ads on the home page of the strange search tool. We do not advise interacting with these ads because they might introduce you to unreliable installers and various scams. Overall, it is hard to predict what kinds of dangers you might encounter when using Yotosearch.com because legal information is not shared with its users. You should always look at privacy policies, license agreements, and other legal statements to see if the services offered are reliable. Obviously, if this information is not provided, we do not recommend using the service.
Have you decided to delete Yotosearch.com from your browsers? The process is quite simple because you only need to reset your browser. If you do not find an appropriate guide below – if a different browser was affected by this search tool – we will add it as soon as you inform us about it. Because there is a possibility that the search tool came bundled with malware, we urge you to scan your operating system beforehand to check if you maybe need to remove other infections first. Remember that if multiple threats are found, you can always install anti-malware software that can eliminate all threats simultaneously.
Remove Yotosearch.com from browsers
Internet Explorer:
Launch the browser and tap keys Alt+T.
Select Internet options.
Click the Advanced tab on the right.
Click Reset and select Delete personal settings.
Click Reset again and then OK.
Google Chrome:
Launch the browser and tap keys Alt+F.
Select Settings and then scroll down to the bottom.
Click Show advanced settings…
Scroll down again and click Reset settings.
Click Reset for confirmation.
Mozilla Firefox:
Launch the browser and tap keys Alt+H.
Select Troubleshooting Information.
Click Refresh Firefox.
Click Refresh Firefox again for confirmation.
In non-techie terms:
Although Yotosearch.com is not classified as a threat, our research team warns that it could expose you to potentially unreliable ads. Banner advertisements can be shown on the home page of the suspicious search engine, and ads could be included in the search results shown as well. On top of that, the search tool does not reveal any information about itself, which is why we have to consider it as a potential threat. For example, it could easily be exploited by malicious parties, who could use ads as security backdoors to expose you to all kinds of dangers. The instructions above show how to delete Yotosearch.com by resetting your browsers, but you can also use an anti-malware tool, which is what we recommend if other suspicious programs are found on your operating system as well.