Do you know what YellowSend is?
Most probably everyone would like to have an application that YellowSend claims to be, i.e., a file sender with no limitations, but we must warn you that you need to be careful with this one. The reason behind our caution is that this application has shown suspicious behavior; thus, it has been classified as a potentially unwanted program, or PUP. Usually PUPs are not dangerous and they do not even count as malware; however, in this case, you really need to be cautious. This program may hold some unpleasant surprises for you. According to our researchers you are better off removing YellowSend from your computer as it may pose a threat to your system's security. Let us share with you in more details why we have concluded this.
There are two ways this PUP can show up on your computer. The official or legitimate way is through its website, yellowsend.com – but hold on a second; the download buttons do not work. What would you think of a program that cannot be downloaded from its own website due to some error? Does that signal you that you should try to get this app from a different source? Try googling it and see what happens. Ninety percent of the first results page will be about how to uninstall and remove YellowSend. What does that tell you about the reliability of this PUP? Do you see now how important it is to always double-check on the software you want to install? You can actually protect your operating system from all kinds of infections if you are careful – as simple as that. Of course, it is also important to make sure that you download the chosen application from a trustworthy source.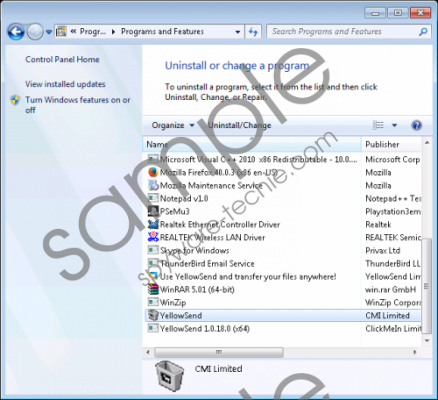 YellowSend screenshot
Scroll down for full removal instructions
The problem is that YellowSend uses a rather questionable method to spread on the web. It usually travels in free software bundles packed with a bunch of adware apps and other infections. You can download these from suspicious file-sharing websites, which mostly promote these infected third-party packages. If you end up installing such a bundle, you will have more problems than you may be able to handle yourself. Apart from YellowSend you will have to delete all other related threats as well. Only then can you feel safe again in your virtual realm.
This PUP could be a successful application because the basic concept is good; although the floating balloon it displays on your screen is rather annoying. If you minimize it and accidentally roll over it with your mouse, it will instantly pop back up. But that is the least of your worries if you have this program on your computer. Our researchers say that YellowSend may start silently dropping malware on your system, including Trojan infections, such as Win32.Troj.generic.a(kcloud) and Trojan.downloader.gen.h. That is rather suspicious behavior that can actually cause harm to your computer. This PUP also makes sure that it autostarts with your Windows operating system, so every time you restart your machine, you will be exposed to the questionable functions of this program. Hopefully, you see now why we suggest that you delete YellowSend from your computer.
If you have made up your mind and are ready to act, please follow our guide below this article, should you need assistance. As a matter of fact, it is very easy to uninstall this suspicious application. You need to find it in the list of installed programs and run the uninstaller; that is all. However, this PUP may have infiltrated your computer together with a number of malware infections. In order to find out what you may be up against, you should run a malware scanner. You can always use a free online scanner to do that, but, if you do not take action based on the results, you may have more severe issues before long.
YellowSend Removal from Windows
Windows 8/Windows 8.1/Windows 10
Press Win+I and choose Control Panel.
Click Uninstall a program.
Select the application and press Uninstall.
Windows Vista/Windows 7
Press the Windows button on the Taskbar and go to Control Panel.
Select Uninstall a program.
Click on the application and click Uninstall.
Windows XP
Press Win+R and enter Control Panel. Click OK.
Click Add or Remove Programs.
Select the application and click Remove.
In non-techie terms:
YellowSend is a questionable application that exhibits suspicious behavior and therefore it has been classified as a potentially unwanted program. This program may put your virtual security at risk by spreading malware, including dangerous Trojan horses, on your computer. It may also sneak onto your system together with malware programs. By keeping this questionable program on-board you might be introduced to unreliable or malicious third-party content. Therefore, we recommend that you remove YellowSend from your PC. If you prefer automated solutions, you can install a trustworthy antimalware tool to take care of all infections and protect your computer.