Do you know what Yardood.com is?
Yardood.com is a search engine that can be used in browser hijacker infections. It mostly affects users in the United States and the United Kingdom, although it is obvious that the program can reach you anywhere as long as you come across its distribution source. When an unfamiliar search engine perches on your browser, it is clear that you cannot tolerate it. Even if it looks like this program can enhance your web search experience, it is very unlikely that a program, which entered your PC uninvited, would do that. Hence, the sooner you remove Yardood.com, the better.
Perhaps we should point out that it is not just this search engine that could have entered your PC behind your back. When it comes to such applications, you have to know that they seldom travel alone. And since this program comes either bundled or with redirects, there is a good chance that you have adware, freeware, and other potentially unwanted software installed, too. Consider this: if your computer has been slower than the usual and your browser is sluggish, perhaps it is about time you run a full system scan with the SpyHunter free scanner to find out what is wrong.
Is it possible to avoid installing Yardood.com? Yes, very much so. Since we know that this program could come in software packages, refraining from downloading freeware from third-party sites would be one of the ways to protect your PC from such intruders. Even if it seems if the program you are about to download is harmless, third-party websites often host and distribute potentially harmful applications that come bundled with the programs you have been looking for. So one of the best ways to protect yourself from such intruders is staying away from file-sharing websites. If you must try out some application, you should download it from its official website.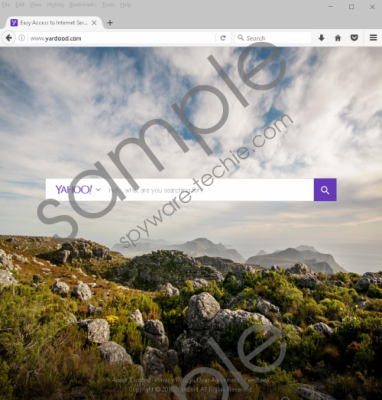 Yardood.com screenshot
Scroll down for full removal instructions
Perhaps one of the most dangerous things about this search engine is that it looks legitimate. It has a user-friendly interface, so it might seem you have found your next best search provider, especially as it allows you to differentiate between Google and Yahoo! Search. Nevertheless, that is no reason to trust this application. It is there to make money by redirecting you to affiliated websites. The search results Yardood.com presents in a new tab will be modified, and some of them will contain outgoing links to potentially unreliable pages.
Here you might say that everything should be fine as long as you do not click the links. But the problem is that Yardood.com does all it can to collect information about your web browsing habits. This is what browser hijackers are very good at. They employ tracking cookies to find out more about the websites you visit and the search keywords you use often. When it has enough data, Yardood.com generates custom search results or ads that might be catering to your likes and preferences. When you encounter such content, you are automatically more inclined to engage into it, so sometimes you might end up clicking those links without realizing the danger behind.
Of course, Yardood.com is not a malicious infection that wants to destroy your system and steal your money. Far from it. Our main concern is that the search engine could be employed by cyber criminals to deliver corrupted content. This, also, does not happen every single day, but the possibility is there, especially as browser hijackers are extremely vulnerable to third-party exploitation. Of course, you can prevent that from happening by removing the search engine today.
It is possible to delete Yardood.com by restoring your browser settings to default. You can find instructions on that right below this description. However, after manual removal, you should still scan your computer with a security application. Although most of the potentially unwanted programs can be terminated via Control Panel, some files might be harder to find. So you should leave that to professionals. What's more, a computer security tool of your choice will safeguard your system against other threats that might try to enter it in the future. So it is not just about protecting your system and your personal information now. It is also a future investment.
How to Remove Yardood.com
Chrome
Press Alt+F and open Settings.
At the bottom of the page, click Show advanced settings.
Press the Reset settings button at the bottom.
Click Reset to confirm.
Internet Explorer
Press Alt+T and select Internet options.
Open the Advanced tab and click Reset.
Mark Delete personal settings and click Reset again.
Press Close.
Firefox
Press Alt+H and open Troubleshooting information.
At the top right of the new tab, click Refresh Firefox.
Press the Refresh Firefox button again and click Finish.
In non-techie terms:
There is no need to panic if your default search engine suddenly changes to Yardood.com. It just means that you have a few unwanted applications on your computer. These applications can be removed quite easily if you follow the instructions above. If manual removal is not your cup of tea, you can also delete unwanted programs using a licensed security application. This way, the removal process will be fast and efficient.