Do you know what Yapages.ru is?
Yapages.ru may appear in your browser after a browser hijacker manages to slither onto your computer. According to our researchers, who tested this hijacker in our internal lab, this malware infection is very similar to other Russian browser hijackers, such as Searchbuw.ru and Loadblanks.ru. This questionable website featuring a potentially unreliable search engine and several third-party ads may redirect you to other malicious pages and thus infect you with further threats or lead you to into the open arms of cyber criminals who cannot wait to steal your personal details and banking information in a well-planned online scam. If you would like to avoid such awful scenarios, we advise you to remove Yapages.ru from your PC immediately after noticing it. Please read on to learn about the details of our findings with regard to this browser hijacker and how you could protect your system from future attacks.
User reports and our research indicate that this hijacker is mostly distributed and promoted by freeware bundles. This means that we have not found an official site that would promote this as a stand-alone tool or application. Unfortunately, the problem with bundles is that you may infect your PC with a bunch of malware threats if you are not cautious enough during the installation process or even before downloading it. As a matter of fact, you could avoid such issues if you were a bit more careful. For example, you should only download software and updates from official and reputable websites and stay away from questionable file-sharing pages, including torrent and shareware sites. These are the most likely places that promote malicious third-party installers packed with malware programs, such as Trojans, fake alerts, ad-supported programs, browser hijackers, and potentially unwanted programs as well. So make sure that you do not click on any content of unfamiliar file-sharing pages unless it is the tab closing "X" button.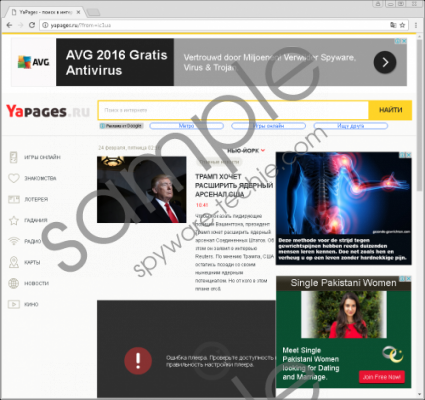 Yapages.ru screenshot
Scroll down for full removal instructions
Apart from such bad installers and downloaders it is also possible that you click on corrupt third-party content while surfing the web and that is how you infect your computer with an unfortunate collection of malware threats. This can happen basically in two ways: Either your computer is infected with adware or you land on a website that promotes unreliable third-party advertisements. As you can see, you cannot really get away without being infected with a couple of malware programs if you find this browser hijacker on board. If you want to restore security on your system, we advise you to find a reliable online malware scanner and run a system scan to see how bad your infection situation is. As a first step though you need to delete Yapages.ru from your computer as an already identified malicious threat.
Once this browser hijacker "sets foot" on your PC, it creates shortcuts in a number of system folders to make sure that a browser window opens with questionable content every time you reboot your Windows or launch your browsers. As a matter of fact, this hijacker sets "yapages.ru/?from=ic1ua" as your home page, which may redirect you to other malicious pages to expose you to unreliable content. This website contains a number of potentially harmful third-party ads that can drop infections or take you to fake webpages run by criminals to scam you. You can also find all kinds of news article previews as well as a menu on the left. But whatever this browser hijacker has to offer might be risky for you to click on.
The search engine this questionable Russian website provides you with also raises the red flag as the search results can be manipulated and include unreliable ads and links coming from unsafe sources like cyber criminals. In fact, your queries are forwarded to cse.google.ru, which is a customized Google search results page. Obviously, this is used to mislead unsuspecting computer users into believing that they are actually on a reliable page. However, one click on the wrong content might start an avalanche of sinister events, such as malicious pages popping up on new tabs and in new windows. This is not only annoying and distracting, but also quite risky if you were to click on any content on your screen. We do not believe that you want to figure out how crooks can scam you out of your personal details and money. Thus, we suggest that you remove Yapages.ru ASAP.
This browser hijacker cannot be uninstalled via Control Panel as it does not seem to have a working uninstaller. Also, resetting your browsers would not help with this particular infection, although it could remove other potential threats like bad toolbars and malicious extensions. What you need to do in this case is delete the related shortcuts and the folder that was created on your system. You can use our guide below that we have prepared for you if you choose to eliminate this threat manually. Keep in mind that it is just as important to eliminate all other threats as well. Therefore, if you do not feel up to the task, you may want to consider installing a trustworthy anti-malware program to do all the "dirty job" for you automatically.
Remove Yapages.ru from your Windows
Tap Win+E to open File Explorer.
Bin the "%Appdata%\Browsers" folder.
Delete all the related shortcuts from these folders:
%ALLUSERSPROFILE%\Microsoft\Windows\Start Menu\Programs
%ALLUSERSPROFILE%\Application Data\Microsoft\Windows\Start Menu\Programs
%ALLUSERSPROFILE%\Start Menu\Programs
%APPDATA%\Microsoft\Windows\Start Menu\Programs
%USERPROFILE%\Microsoft\Windows\Start Menu\Programs
%USERPROFILE%\Desktop
Empty your Recycle Bin.
In non-techie terms:
Yapages.ru is a potential threat source that can introduce you to questionable third-party content through advertising and modified search results. Our researchers have categorized this infection as a browser hijacker. This infection hijacks your shortcuts and thus makes it sure that this shady website is loaded every time you launch your browsers. If you do not want to click on unreliable ads and links related to this browser hijacker, we suggest that you remove Yapages.ru right away. Since this hijacker may come on board along with other malicious software installers, we advise you to use a proper up-to-date anti-malware program to protect your PC.