Do you know what yamdex.net is?
When yamdex.net shows up in your browsers as the new home page, it is quite possible that you have downloaded and installed a freeware bundle that you acquired through a Russian file-sharing website. Since this application is able to make changes to your browsers, our researchers have categorized it as a browser hijacker. It seems that this hijacker mainly targets Russian computer users. However, if you download free software from questionable Russian freeware sites, this hijacker might be one of the "uninvited guests" that will land on your computer. You need to act before you will be introduced to unreliable content, which could cause more system security issues for you and your computer. Browser hijackers mainly have one goal: To promote affiliated websites either through the main page of a search engine or through its third-party services, including the search tool itself. Therefore, it is never guaranteed that clicking on any content on this search site will redirect you to reliable websites. According to our researchers, you need to delete yamdex.net as soon as you notice it in your browsers.
Research shows that this browser hijacker mostly shows up on Russian computers, i.e., computers located in Russia. The search site itself is also Russian due to its target region, of course. It seems that this infection has no standalone installer promoted on a designated web page, but, instead, it is spread over the net in freeware bundles. This means that it can be downloaded from Russian shareware and torrent sites mainly. While there are obviously safe and reputable file-sharing sites, you need to understand the danger of unfamiliar and questionable websites. The consequences of clicking on unsafe content or even simply loading such a page can range from mild to severe. Therefore, it is best to avoid these sites altogether. Landing on shady sites is like starting an avalanche. The site may open new tab pages and load more suspicious sites and content in them, but it is also possible that it contains a malicious banner ad that might run a program code in the background dropping some infections onto your computer. These sites can totally cripple your online experience and your browsers, but they can also be dangerous to your whole computer and your stored data as well. So, if you have ended up on such sites lately, even accidentally, we believe that you should delete yamdex.net and check your system for other infections.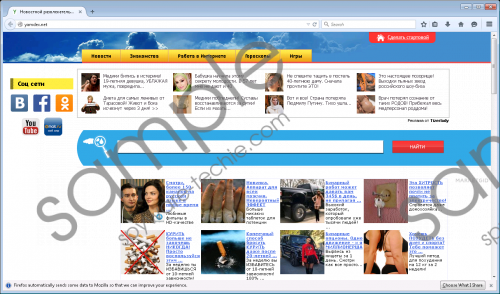 yamdex.net screenshot
Scroll down for full removal instructions
This browser hijacker is rather annoying because the main page it displays is full of flashy third-party advertisements, unreliable third-party articles, and quick links to popular websites, including Facebook and YouTube. You cannot even trust these quick links even if they seem to lead to reputable websites because, in fact, they may display promoted pages instead. If you click on an article, you may also be exposed to potentially harmful affiliated content. Another way this hijacker may pose a threat to your computer is through modifying search results. Your search queries seem to get redirected to go.mail.ru, which again may display unreliable content in the form of third-party ads and sponsored links. If you happen to click on any of the content provided by this browser hijacker, there is a good chance that before long your computer will be swarming with malware infections.
You can always easily check for certain unwanted applications and browser extensions if you scan through the install programs list in Control Panel and the extension/add-on lists in your browsers. It is worth web searching the applications you cannot identify as useful or system files. You can also use our search box at the top of this page so that you may be able to find descriptions and solutions at the same time if we have already managed to cover the infection you are trying to find information about. But, unfortunately, even removing all these visible malware infections may not clean your computer fully from threats and leftovers, not to mention the mess these can leave in the Windows Registry. Keep in mind that the most dangerous infections, such as Trojans, ransomware, keyloggers, and rootkits need to be silent and invisible to you so that they can operate. Therefore, you can only find and eliminate these infections if you apply a professional security tool.
Finally, we have arrived to the stage where we can share with you what you can do to remove yamdex.net. First of all, you need to restore the Target lines of your browser shortcuts because this browser hijacker appends its path to the original path so that it will be set as your home page even if you reset your browsers. After taking care of the Target line issue, you can simply reset all your browsers to get rid of this hijacker. We can also offer you manual removal if you are confident enough to work with the Windows Registry. Please note that inexperienced users might cause more damage than good by tampering with the wrong registry keys. We have prepared step-by-step instructions below this article if you need any assistance with all this. Please leave us a comment below if you have any questions regarding the removal of yamdex.net.
Remove yamdex.net from Windows
Restore the Target line
Right-click on the browser shortcut on your desktop.
Select Properties and go to the General Tab.
Make sure that Read-only is unchecked.
Switch to the Shortcut tab and delete the added string in the Target line after the quotes. Click OK.
Right-click on the shortcut on your Taskbar to display the menu.
Right-click on the option with the browser name at the bottom.
Repeat steps 2 to 4 to restore the Target line.
Reset your browsers
Internet Explorer
Tap Alt+T and select Internet Options.
On the Advanced tab, click Reset.
Tick Delete personal settings.
Click Reset and click Close.
Mozilla Firefox
Tap Alt+H and select Troubleshooting Information.
Click Refresh Firefox and click Refresh Firefox again.
Press Finish.
Google Chrome
Tap Alt+F and pick Settings.
Click Show advanced settings at the bottom.
Click Reset settings at the bottom.
Press Reset.
Manual removal
Press Win+R and type in regedit.
Locate the following registry keys and edit the value name "1" and data associated with yamdex.net. Replace it with any search engine you trust: HKLM\SOFTWARE\Wow6432Node\Policies\Google\Chrome\RestoreOnStartupURLs (64-bit only)
HKLM\SOFTWARE\Policies\Google\Chrome\RestoreOnStartupURLs
Locate the following registry keys and replace the value data of the value name "Default_Search_URL" and "Start Page" with any URL of your choice:
HKLM\Wow6432Node\SOFTWARE\Microsoft\Internet Explorer\MAIN (64-bit only)
HKLM\SOFTWARE\Microsoft\Internet Explorer\MAIN
Locate the following registry key and replace the value data of the value name "Default_Search_URL" and "Start Page" with any URL of your choice:
HKCU\Software\Microsoft\Internet Explorer\Main
Close the editor.
Press Win+E.
Copy and paste %appdata%\Mozilla\Firefox\Profiles\ into the address bar and hit Enter.
Double-click the profile folder. Find and open prefs.js with a text editor.
Search for and locate these lines: user_pref("browser.newtab.url", "yamdex.net") and
user_pref("browser.startup.homepage", "yamdex.net").
Replace both "yamdex.net" strings with a search provider of your choice.
Exit the text editor.
In non-techie terms:
Yamdex.net is a Russian search engine that can turn up in your browsers if you let a browser hijacker on board. This can happen if you install freeware you download from mainly Russian websites. This hijacker may present to you potentially harmful content and redirect you to unsafe websites. Therefore, it is quite risky to keep this hijacker on your computer once you have noticed its presence. Since it can affect all major browsers, including Mozilla Firefox, Internet Explorer, and Google Chrome as well, you can hardly escape the exposure to cyber criminals through this questionable search engine. We advise you to remove yamdex.net before you infect your computer with more malware threats or get scammed by criminals. It is equally important to detect the presence of all other infections so that you can take action against them. Unless you clear them all, your computer will not be secure to use. That is why we recommend that you use a professional malware removal tool so that you can provide your precious computer perfect protection.