Do you know what XRat Ransomware is?
XRat Ransomware is a recently developed malicious program that encrypts its victim's personal data on the computer. The malware's creators leave a ransom note that asks to contact them via email. No doubt that their reply should state how much you would have to pay for a decryption key and how to transfer the money. We have to warn you that paying the ransom does not guarantee you will get the decryption key and also it might be unnecessary. According to our researchers, the malicious program belongs to a well-known ransomware family called Xorist. Thus, it might be that older decryptors created for Xorist Ransomware could allow you to unlock data affected by XRat Ransomware. If you want to learn more continue reading the article and if you wish to delete the malware, check the removal guide below the text.
Applications as this one are usually spread through Spam emails or dropped by other malicious programs. If you opened a suspicious email attachment before the appearance of XRat Ransomware, then it is most likely that you received an infected file. In this case, the user should go to the directory where the file was saved and erase it. However, if you launched an installer or downloaded an update before the threat infected the system, it could be that another malware dropped it. If that is the case, it might be smart to check the computer and delete this malicious application if it is still in the system.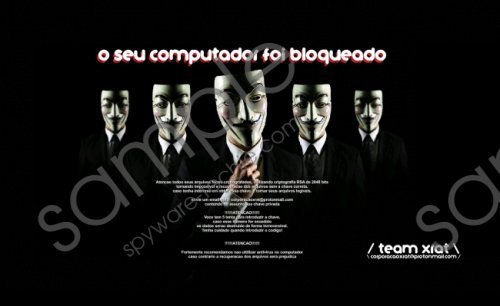 XRat Ransomware screenshot
Scroll down for full removal instructions
When an infected file is launched XRat Ransomware creates a copy of itself in the %TEMP% directory. The name is randomly generated, e.g. it might have a title from 15 characters in the lower case only. Afterward, the malware should initiate the encryption process. It would seem that the malicious program is after the files, which are most precious to the user. For example, it could lock files that have the following extensions: .zip, .rar, .7z, .tar, .gzip, .jpg, .jpeg, .psd, .cdr, .dwg, .max, .bmp, .gif, .png, .doc, .docx, .xls, .xlsx, .ppt, .pptx, .txt, .pdf, .djvu, .htm, .html, and others.
All encrypted files should have an additional extension called .C0rp0r@c@0Xr@t. Also, the ransomware should add a ransom note to each directory that contains locked data. Nonetheless, before that the malware should display a pop-up in the Portuguese language. It states the fact that your data was encrypted, and once you close it the malicious program should change your Desktop wallpaper and open the ransom note. It says that if the user wants to decrypt his data, he must contact the ransomware's creators via email.
The good news is that this might be unnecessary and you may not have to pay anything to the malware's developers. Our researchers say that since XRat Ransomware is very similar to other malicious applications from Xorist family, previously created decryptors might be able to unlock your data. Thus, we advise you to search the Internet for a decryptor that IT volunteer specialists designed for Xorist Ransomware.
If you managed to unlock your data or you simply have copies of it on removable media devices, you should not hesitate to eliminate the malware. The removal process is not that difficult as it might look like. Simply check the instructions below and they will show you how to delete XRat Ransomware's malicious data. We should also mention that you can erase the threat with a trustworthy antimalware tool. Such tool could help you not only clean the system now but also guard it against malware in the future. All you have to do is update it when it is possible, and the tool should be able to fight the newest threats.
Remove XRat Ransomware
Open the Explorer (press Windows Key+E).
Navigate to %TEMP%
Locate a malicious file with a random title, right-click it and select Delete.
Find another malicious file that infected the system; it could be saved in the Desktop, Temporary Files, Downlaods, and other directories.
Right-click the infected file and press Delete.
Locate and erase text files with the ransom note.
Empty Recycle bin.
In non-techie terms:
XRat Ransomware is a malicious application that is developed to extort money from its users. The program encrypts personal data, and its creators demand you to pay a ransom for the decryption key. Luckily, as we said earlier in the article, you might be able to find a working decryptor on the Internet, so there is no need to rush paying the ransom. In any case, there is always a chance that the malware's developers will not give the decryption tool, so if you do not want to risk losing your money, we advise you to eliminate the ransomware instead. You can delete it either with the instructions above or with a legitimate antimalware tool.