Do you know what XP Protection 2014 is?
XP Protection 2014 is a computer infection that attempts to deceive you into thinking that your computer is affected by many Trojan horses and other threats. XP Protection 2014 looks like a legitimate anti-virus program that can scan the computer and inform you about various threats by displaying pop-up notifications. It is crucial to remove XP Protection 2014 from the computer, so do not wait but take action right now.
XP Protection 2014 disables executable files in order to prevent you from accessing the Internet or launching some security programs. You may think that all those programs, including Internet browsers, are blocked by the threats detected by XP Protection 2014, but the truth is that XP Protection 2014 is responsible for all these glitches.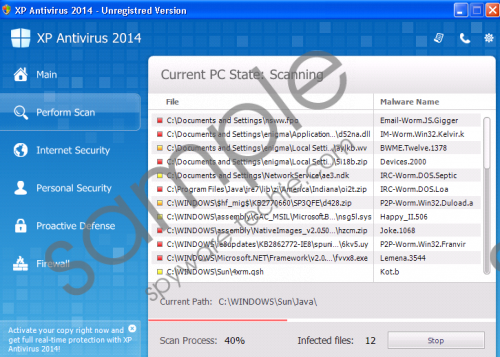 XP Protection 2014 screenshot
Scroll down for full removal instructions
XP Protection 2014 belongs to a group of malicious programs that change their names depending on the user's operating system. For example, you may find that your computer contains XP Antivirus 2014 or XP Antimalware 2014, or some other suspect program. If you had another operating system, you would deal with, for example, Win 7 Protection 2014 or Win 8 Protection 2014. These deceptive programs are called the Braviax, or FakeRean, family, and they not new to security experts. Programs that have these characteristics have been in the wild since 2010, and computer users had had to deal with Win 7 Internet Security 2012, XP Home Security 2011, and many other variations of very similar threats.
The presence of XP Protection 2014 on your computer is a serious issue because the infection blocks executable files, which means that you cannot access the Internet or launch any security program. Instead of the interface of the selected program, you are provided with a fake warning saying that the program is infected, which is not true. Once you remove XP Protection 2014 from the computer, you can use your programs as usual.
Do not even thing about investing in this program, the price of which varies from $59.95 to $99.95 USD, depending on the type of the license. Instead of relying on this fake security program, you should implement a reputable one that is capable of identifying malware and spyware threats.
Below you will find an excerpt from one of the deceptive pop-up warnings displayed by the threat:
Vulnerability Found

Your system was scanned for security breaches. Attention: 25 serious issues were detected.
In order to get rid of all those annoying pop-ups and restore the former settings of the system, implement a reputable anti-malware program. We recommend that you get rid of XP Protection 2014 using SpyHunter because this program has already dealt with FakeRean programs and can easily remove XP Protection 2014 and safeguard the system against multiple Internet-based threats.
How to remove XP Protection 2014
Windows Vista and Windows 7
Restart the computer.
Wait for the BIOS screen to load and repeatedly tap the F8 key.
Select Safe Mode with Networking. Press Enter.
Go to http://www.spyware-techie.com/removal and download our recommended program.
Install it and get rid of XP Protection 2014.
Windows XP
Restart the computer.
When the BIOS screen loads, start tapping the F8 key.
Select Safe Mode with Networking and press Enter.
Click the Yes button.
Download our recommended security program which is available at http://www.spyware-tehice.com/download-sph and open the Start menu.
Launch the Run command.
Enter msconfig and click OK.
Open the Startup tab and click Disable All.
Click Apply.
Restart the computer and install SpyHunter.
Windows 8
Go to the Start menu.
Move the mouse pointer to the lower-right corner to open the Charm bar.
Click Settings.
Click Change PC Settings.
Select General.
Under Advanced Startup, select Restart Now.
Click Troubleshooting.
Select Advanced Options.
Click Startup Settings.
Click Restart.
Wait until the BIOS screen appears.
Press F5 to boot the system into Safe Mode with Networking.
Go to http://www.spyware-techie.com/SpyHunter and download the recommended program.
In non-techie terms:
XP Protection 2014 is a deceptive program that enters your computer while you are browsing insecure websites. The fake security program may be bundled with unreliable programs; hence, you should always keep the system protected against malware and malware.