Do you know what XP Micro Antivirus Online Scan is?
XP Micro Antivirus Online Scan is fake online system scanner that is installed on a particular web page. Should you land on a page that has fake scan encoded, the scan will start immediately. One of the websites that is known to display XP Micro Antivirus Online Scan is called pcspeedplus.com/scan. If you open this website, the first thing that you see is a dialog message that says:
Critical Security Warning!
Your PC was infected with self-replicating virus after Spyware attack.
XP Micro Antivirus will perform a free scan of your PC to find all System Threats.
If you click Scan, XP Micro Antivirus Online Scan will pretend that it runs a full system "scan" with Windows XP interface on the page. Naturally, if you have Windows XP installed on your computer it does seem as though your system is being scanned, however, XP Micro Antivirus Online Scan does not change its interface depending on which operating system is installed on the PC. Therefore, it is easy to tell XP Micro Antivirus Online Scan apart from real computer scans. It goes without saying that XP Micro Antivirus Online Scan is a scam.
This scan is nothing more than a moving picture with flash elements mounted and designed to make you think that there is something wrong with your computer. XP Micro Antivirus Online Scan displays fake scan results and then urges you to "repair" your computer. If you click the Repair button you will download PC Speed Maximizer computer optimization application that is rather controversial.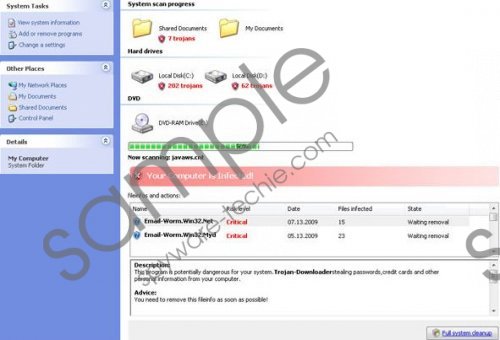 XP Micro Antivirus Online Scan screenshot
Scroll down for full removal instructions
Although there is no proof that PC Speed Maximizer is computer malware, it is known to delete legitimate programs from target computers, indicating them as infections. Therefore, if you downloaded PC Speed Maximizer, do not install it, and if you have installed it, navigate to your Control Panel and remove the program.
After that run a PC scan with SpyHunter free scanner to make sure that you have no malicious applications installed on your computer, and then acquire a powerful antimalware tool that will protect your system from intruders. Also, do not forget to close the scan window, and the next time you encounter it online, ignore it completely.
In non-techie terms:
XP Micro Antivirus Online Scan is a fraudulent web page that imitates a full system scan, displays fake results and then urges you to download unnecessary software. Close your browser's window immediately, and scan your PC to make sure that no malicious programs are present on your PC.
Aliases: XP Online Scan.