Do you know what Xorist Ransomware is?
If your computer is attacked by Xorist Ransomware, you will have a hard time identifying it. This Trojan ransomware is indeed a fully customizable malware infection, i.e., any schemers can create their own versions by using the available builder program. Therefore, it is quite difficult to say specifics about this infection since certain traits can be totally different from one version to another. Our researchers have conducted a careful and detailed test on this malware in our internal lab so that we can provide you with the necessary knowledge to recognize this Trojan and learn what you can do to avoid it. In several aspects, this ransomware is unlike many other dangerous Trojan ransomware programs, including Coverton Ransomware and Petya Ransomware. For example, this Trojan uses encryption algorithms that may actually be deciphered. This means that you may be able to find a working decryption tool on the net after careful search. Otherwise, if you want to use your files again, you either need to pay the ransom fee to the criminals who attacked you or transfer your externally saved backup files back to your PC. However, before you set out to decrypt your files with a free tool or copy the backup back to your hard drive, you should remove Xorist Ransomware.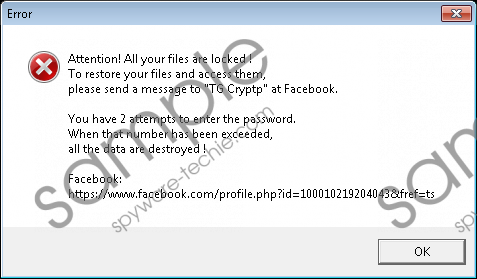 Xorist Ransomware screenshot
Scroll down for full removal instructions
If you understand how most Trojan ransomware infections can silently enter your computer, it can give you a key into your hand about how to avoid them in the first place. Since it is really up to the individual criminals and their own versions of Xorist Ransomware how they distribute it over the web, it is hard to say what the most common method is. Therefore, let us give you some clues about how generally these dangerous malware infections travel on the waves of the Internet Ocean. This Trojan is most probably frequently sent in spam e-mails as an infected attached file. These files can usually be video and image files; however, occasionally, these can also be .doc, .pdf, and .js files, too. The lesson here is clear: You should not open any mails that come from unfamiliar senders. Of course, it is possible that the Trojan can impersonate a legitimate office or an Internet provider company. It is also possible that the subject of the mail will be an invoice number to make you believe that it is an important and genuine e-mail. However, when you open the mail and click on the attached fake invoice, you simply drop the Trojan onto your computer. So be very careful around your inbox and clicking on attached files.
Another frequently used method is sending a video or image with a corrupt link to your social networking walls or feeds. For example, you may find a fake video on your Facebook wall that may even come from a friend seemingly to make sure that you will check it out. These corrupt videos and images are usually with pornographic content. Therefore, you should think twice before clicking on any content on these sites as well. Yet another distribution method is the exploitation of older driver and browser security bugs. Criminals can create special websites that can exploit these bugs and if your browser and Java or Flash drivers are not updated, these crooks may be able to access your computer and drop this Trojan. As you can see, there are several ways for this Trojan ransomware infection to spread on the web. But we believe there is only one way to treat this "uninvited guest": You must delete Xorist Ransomware if you want to restore your system security.
Once this infection is activated, it starts encrypting the targeted files, which can also be set and customized in the builder program of Xorist Ransomware. The most commonly encrypted file extensions include .zip, .rar, .7z, .tar, .gzip, .jpg, .jpeg, .psd, .cdr, .dwg, .max, .bmp, .gif, .png, .doc, .docx, .xls, .xlsx, .ppt, .pptx, .txt, .pdf, .djvu, .htm, .html, .mdb, .cer, .p12, .pfx, .kwm, .pwm, .1cd, .md, .mdf, .dbf, .odt, .vob, .ifo, .lnk, .torrent, .mov, .m2v, .3gp, .mpeg, .mpg, .flv, .avi, .mp4, .wmv, .divx, .mkv, .mp3, .wav, .flac, .ape, .wma, and .ac3. This ransomware can either use XOR or TEA (Tiny Encryption Algorithm) encryptions, which cannot be called as secure and unbreakable as, for example, the RSA algorithm. We can only say that the default extension the encrypted files get is ".EnCiPhErEd "; however, even this can be a custom one. This infection also makes sure that you see its warning message called "HOW TO DECRYPT FILES.txt"; therefore, it places it in the startup directory (%appdata%\Microsoft\Windows\Start Menu\Programs\Startup) so that with every reboot you would have to see it. Then, it also creates copies of this text file and places it in random folders.
Since even the ransom note can be customized, we cannot tell you what your version may be. If it appears on your desktop or as a background image, most probably it simply informs you about the fact that your files have been encrypted and you are to pay a certain amount of ransom fee to get your files decrypted. In this case, you are supposed to get a password that can be generated in the ransom builder program, after you contact the criminals. This password then can be inserted in the input box provided by this infection. The fee can be anything from 100 USD to 500 USD depending on the thirst of the particular cyber criminals who created your version of Xorist Ransomware. We do not advise you to pay the ransom fee, but we cannot stop you either. But please remember that these are cyber criminals you are dealing with. It is quite possible that they will not keep their promise. We suggest that you remove Xorist Ransomware immediately if you want to keep your virtual world safe and clean.
Unfortunately, we have not yet found a simple way to eliminate this threat manually. It makes it even harder that the different versions of this malware may leave different leftovers on your system. Before you would do any recovery, though, you should definitely clean Xorist Ransomware from your computer. Therefore, we recommend that you use a reliable anti-malware program, such as SpyHunter, and erase all infections from your PC. Of course, you can use any up-to-date security tool that you can trust. But be careful because the Internet is full of rogue applications. Once your system is all secured, you can either copy your backup files back to your hard drive or you can try to find a recovery tool on the web. Keep in mind that even such a tool may not be able to decipher all your files. If you need help with removing Xorist Ransomware, please leave us a comment below.
Xorist Ransomware Removal from Windows
Open your browser and type in the following URL address: www.spyware-techie.com/download-sph
Download and install SpyHunter.
Perform a full-system scan.
Delete all malware infections reported by this security tool.
Reboot your computer.
In non-techie terms:
Xorist Ransomware is a difficult-to-identify Trojan infection that has been around since 2013. The major issue with this ransomware is that it is fully customizable through a program that can be access by anyone really. Therefore, there can be all kinds of versions out there on the web with different parameters, including ransom note, method of payment, targeted files, encryption used, and so on. If this Trojan hits your computer, your personal files will be encrypted and decryption is offered to you for a certain ransom fee, which is also up to the criminals and the version of this infection you have. We do not recommend paying these crooks, but it is your decision to make. We advise you to remove Xorist Ransomware immediately after it reveals itself. As for the encrypted files, you need to know that the applied encryption is not impossible to decipher. It is possible that you can find a working free tool on the web. If you want to clean this threat and protect your computer from similar attacks, we suggest that you use a reliable malware removal application.