Do you know what Xiaoba 2.0 Ransomware is?
Xiaoba 2.0 Ransomware is a computer infection that will leave you breathless. It will probably send you into a state of shock because ransomware infections do not joke around. They can easily block you from accessing all of your files. It is also hard to revert the damage caused by these infections because they literally hold your data hostage. On top of that, even if you remove Xiaoba 2.0 Ransomware from your computer, it might be the last you hear of your files because the public decryption tool is not available at the moment.
So how would it be possible to get your files back? It depends on whether you were prepared. Computer security experts always emphasize that it is crucial to regularly back up your files on an external or virtual drive because you can never know when something might happen to your computer. Also, you probably do not realize it, but a great chuck of your files could already be backed up on a virtual drive, especially if you create and store them with your mobile device. So the point is that keeping copies of your files is not luxury, but common sense. As it is the most sufficient way to retrieve them if something happens to the originals.
Xiaoba 2.0 Ransomware is a rather sophisticated infection because it goes an extra mile to make itself look reliable. Based on our research, the installer file for this infection poses as an Adobe Flash installer. It even has a fake digital signature to make it look like the real deal. So users who get infected with this program actually think that they are about to install a new version of the Adobe Flash player. This shows that it is extremely important to download your programs and applications from official sources. Getting them from third parties could easily result in installing fake programs that happen to be malicious.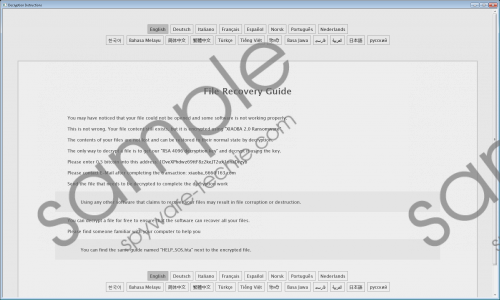 Xiaoba 2.0 Ransomware screenshot
Scroll down for full removal instructions
What's more, Xiaoba 2.0 Ransomware doesn't need to work much to enter your computer. It mostly reaches you via spam email, and you open such messages yourself. You might say that spam email gets filtered into your junk folder, but sometimes those messages look like real notifications from online stores or some financial institutions. They convince users that they must open the file in the message to view a particular video or to check their financial report, and so gullible users end up download and opening this malicious file.
While it is possible to scan the downloaded files with a security tool before opening them, it is very likely that few users choose to do that. After all, if everyone were careful about unfamiliar files, there wouldn't be that many ransomware infections. However, now that Xiaoba 2.0 Ransomware slithers into a target system disguised as an Adobe Flash Player installer, users tend to launch the file without any second thought, and that's how they get infected with this malicious program.
Upon installation, Xiaoba 2.0 Ransomware encrypts files in most of the %UserProfile% directory, and each affected folder gets a ransom note, too. The encrypted filenames also get a long appendix that indicates the files have been affected. You can check the ransom note almost immediately after the encryption. The note says that you need to pay 0.5 BTC (around $3,500) to the given BTC wallet. The sum is preposterous, and you should never ever think of spending a single cent on something like that. Not to mention that it is highly unlikely that these criminals would issue the decryption key in the first place.
You need to remove Xiaoba 2.0 Ransomware from your computer today. Since the infection deletes itself after installation, you just need to remove the ransom note files that are dropped all over your system, and then get rid of any suspicious files that you have recently downloaded. If you find it too bothersome to do it on your own, you can terminate Xiaoba 2.0 Ransomware with a licensed antispyware tool. If you choose to invest in a powerful security application, you will also protect your system from similar intruders in the future. However, you should also consider upgrading your web browsing habits because they are also important in ensuring your system's security.
How to Remove Xiaoba 2.0 Ransomware
Remove the HELP_SOS.hta ransom note files.
Press Win+R and the Run prompt will open.
Type %TEMP% into the Open box. Click OK.
Remove HELP_SOS.vbs and the most recently downloaded files.
Open your Downloads folder.
Delete the most recently downloaded files.
Run a full system scan with SpyHunter.
In non-techie terms:
Xiaoba 2.0 Ransomware is a program that you should be able to avoid if you are careful about the files you open. If you get infected with it, it is possible that you may lose most of your data. Hence, prevention is a lot more important than you might think initially.
On the other hand, if you got infected with Xiaoba 2.0 Ransomware, do not hesitate to address a professional for some removal tips. You may also want to explore various opportunities to restore at least part of your files.