Do you know what X-rates is?
We have tested X-rates in our internal laboratory and decided that this currency rates manager could be classified as a potentially unwanted program. It seems to work properly and show you the latest currency rates. At first, you may even be happy because of the possibility to see the rates on your desktop without opening any website. But, we have come up with the advice to remove X-rates from your computer. You may ask why and we have an answer for you: this program monitors your Web activity for an unknown reason and sends the information to unidentified people.
Yes, you got it right. X-rates acts like some kind of a surveillance tool. It analyzes your browsing history and opens the websites you visited earlier. On the top of that, every link that is found on those sites is opened by X-rates. Besides, this program goes through your search history, paying the most attention to the search queries related to adult content. After doing its surreptitious job, the currency rates manager connects to remote server and sends the statistical information about you. The reason for such activity remains unrecognized, and we can only guess that this is done to show you customized applications in the future. In any case, it is not recommended to make your Internet habits visible to unreliable people.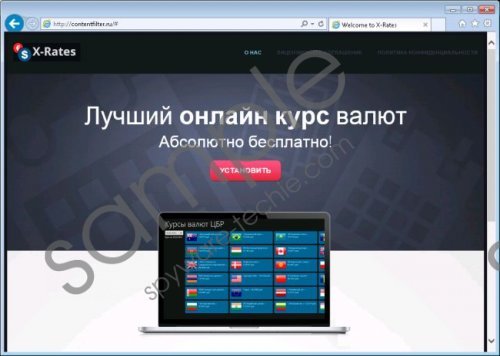 X-rates screenshot
Scroll down for full removal instructions
We call the people who stand behind X-rates unreliable because of the following reason. We have conducted a thorough investigation of the contentfilter.ru website, which seems to be associated with the program. And we have found totally no information about the developers or creators of X-rates. There are some positive comments from the users of this software, but they are likely to be fake. We state this because currently there is no possibility to provide feedback on X-rates: no comment box, no contact e-mail, and no phone number.
Another thing that the website lacks is the possibility to download X-rates. This means that the program somehow found a way how to sneak into your system. The fact that the contentfilter.ru website is entirely in Russian allows us to say that the software is targeted at the Russian-speaking audience. Based on that, we can guess that you have probably received X-rates in a package with some free software you have downloaded from the Russian-language sites. There are few dangers in this. First of all, if you are not fluent in Russian, you may have possibly skipped the installation wizard and opted for Standard installation. Thus, the door for additional potentially unwanted programs was opened, and they have found themselves on your computer. What is worse, we have found that X-rates could come bundled with malicious software installers. Your computer could be already exposed to various threats.
But there is no need to panic yet. Start with eliminating X-rates, especially as it could be easily done in a few simple steps. Then, you need to detect all the other invaders. This process is almost impossible to be done manually, so you will need a professional help. Find a suitable antispyware tool and clean your system. Keep the tool updated and it will be ready to face all the malicious guests.
How to eliminate X-rates
Windows 8 or Windows 8.1
Simultaneously tap the Windows key + C.
Click on Settings.
Launch Control Panel.
Go to Uninstall a program and remove the unwanted application.
Windows XP
Go to the Start menu.
Find Control Panel and open it.
Open Add or Remove Programs.
Find X-rates and remove it.
Windows 7 or Windows Vista
Click the Start button.
Open Control Panel.
Click on Uninstall a program.
Delete X-rates.
In non-techie terms:
X-rates is promoted as the software which will allow you to follow real-time currency rates for free. However, this program starts to act like a fox in the henhouse. It collects data on your browsing activity, and even open links on its initiative. This disrupts your Internet browsing, to say the least. Moreover, other unwanted programs are probably already on your computer after they came along with X-rates. Remove the latter following our instructions and then scan your system with SpyHunter to locate other enemies.