Do you know what www-searching.com is?
The website www-searching.com is used by a browser hijacker that might enter your system without your permission. If your browser settings have been changed behind your back, it is a clear sign that your system's security has been compromised, and you must remove www-searching.com immediately. On top of that, if your default homepage gets changed to www-searching.com, it also means that you might have a lot more unwanted applications on your computer. Thus, when you get rid of this browser hijacker, scan your computer for other potential threats too.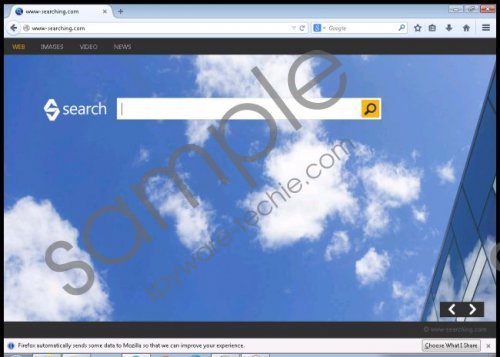 www-searching.com screenshot
Scroll down for full removal instructions
According to our research, this browser hijacker affects only Mozilla Firefox, but that does not mean you shouldn't be worry about the potential danger if your default browser is Internet Explorer or Google Chrome. The malicious file might enter your system either way. As you can obviously tell, www-searching.com does not have a direct download link because no one would ever want this kind of search engine on her computer. Nevertheless, like other infections from the same category, www-searching.com is very good at utilizing other means of distribution. For example, it is known that this browser hijacker often comes bundled with third-party freeware installers. From this, we can infer that users often download the malicious installer files themselves when they look for something on torrent or file-sharing sites.
Once www-searching.com enters the target computer, it modifies Mozilla Firefox settings by changing the default homepage to www-searching.com. This page emulates the appearance of the Bing search page, trying to make it look nice and reliable. However, if you were to enter a search query into the search box and press Enter, you would be redirected to thesmartsearch.net, which is yet another malicious browser hijacker. Thus, there is no reason to keep www-searching.com on your PC, the sooner you remove this infection, the better.
Don't think that nothing bad will happen if you merely ignore www-searching.com. It doesn't work that way. The browser hijacker might as well be exploited by cyber criminals to display commercial ads that contain links to affiliated websites. Hence, even if www-searching.com cannot infect you with malware directly, it might inadvertently redirect you to dangerous web pages that actually could. This means that if you want to avoid serious computer issues, you simply must delete www-searching.com right now.
To get rid of www-searching.com, you need to change your homepage settings manually. As far as other malicious files are concerned, you should scan your PC with the SpyHunter free scanner to identify them all. Then invest in a computer security tool to delete all the remaining unwanted files and programs automatically. Keep in mind that a computer security program of choice will also help to protect your PC from similar intruders in the future.
Remove www-searching.com from Mozilla Firefox
Open your browser and press Alt+T.
Click Options and open the General tab.
Enter a new homepage address and click OK.
Restart your browser for the changes to take effect.
In non-techie terms:
Browser hijackers like www-searching.com enter target systems with intention to help its developers make easy money. Unfortunately, they could also be used in malware distribution schemes, so you need to delete www-searching.com ASAP if you care about your system's safety.