Do you know what WorldSearchPro.com is?
WorldSearchPro.com is another questionable search engine that often acts like a browser hijacker because it tends to appear on browsers without permission. Our specialists have not found this fact about WorldSearchPro.com shocking or surprising because it is evident that it can set itself without permission because it belongs to the Elex family. Have you already noticed the presence of WorldSearchPro.com on all your browsers? If so, it means that you need to remove WorldSearchPro.com as soon as possible. First of all, you need to do that because it does not work properly, i.e. it does not return search results at the time of writing. Secondly, it might provide you with the sponsored content, e.g. you might see advertisements on the main page of the search engine, or they will be put together with the search results when it starts displaying them. Last but not least, it is known that WorldSearchPro.com might violate your privacy. We will tell you more about this questionable search engine in the article. Also, you will find more information on its removal if you read it.
Even though WorldSearchPro.com is the most prevalent in India and Iran, you might notice it set on all your browsers no matter where you live. If it has already happened, you need to remove this questionable search engine ASAP and then set another search provider. As we have already mentioned, you, first of all, need to do that because this search tool might provide you with the sponsored content. In most cases, these advertisements are shown for users to make sure that they click on them and end up on third-party websites. In other words, websites that belong to third parties are promoted with the help of ads and sponsored links. You might find them on the main page too; however, in most cases, they are put together with the legitimate search results and appear to users when they enter a query. As WorldSearchPro.com does not return any search results at the time of writing, you will not see ads unless it is fully launched; however, you might still be redirected to an untrustworthy website, so it would be best that you remove WorldSearchPro.com completely.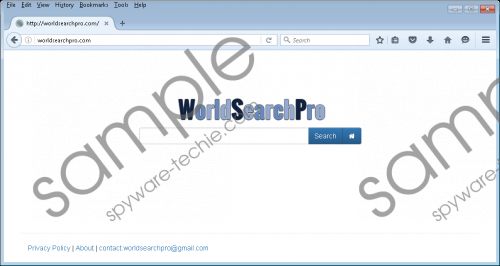 WorldSearchPro.com screenshot
Scroll down for full removal instructions
Furthermore, we do not think that it is the best idea to keep this Elex hijacker because it is known that it will record information about users too. It is clear to us after reading its Privacy Policy that it is going to record two types of information: personal and non-personally identifiable information. It is probably clear for you what "non-personally identifiable information" means; however, not all the users understand which details are considered to be personal. Specialists say that this search engine will record your name, surname, address, and the so-called demographic information (e.g. age). It might seem at first glance that these details are not important and cannot be used for bad purposes; however, you should know that it is not exactly true. The only way to make sure that this search engine is not a threat to your privacy is to fully remove it.
In most cases, questionable search engines are spread by browser hijacker infections. It is known that hijackers often come in software bundles with free applications, so you should be very careful with free applications and do not download them from questionable third-party sites in the future in order not to infect your PC with malware again. Specialists also say that you should not click on any questionable links or advertisements you come across while surfing the web because clicking on them might result in the presence of malware as well. Finally, you should not forget to install an automatic malware remover on your computer as well.
Users who wish to eliminate WorldSearchPro.com should, first of all, try resetting all their browsers installed on computers one by one. If this does not work, they should go for the automatic WorldSearchPro.com removal. Security specialists are sure that the SpyHunter antimalware suite will take care of this questionable search engine within seconds.
Delete WorldSearchPro.com
Internet Explorer
Open your browser and tap Alt+T.
Select Internet Options.
Click on the Advanced tab.
Click Reset.
Check the Delete personal settings box.
Click Reset again.
Google Chrome
Open your browser and tap Alt+F.
Select Settings and scroll down.
Click Show advanced settings.
Click Reset settings.
Click Reset.
Mozilla Firefox
Open your browser and tap Alt+H.
Open Troubleshooting information.
Click on the Refresh Firefox button.
Click on this button again.
In non-techie terms:
There might be other serious computer infections hiding on your system, so do not forget to scan the system with a diagnostic scanner after you delete WorldSearchPro.com. Of course, you do not need to do that if you have removed WorldSearchPro.com with the help of a trustworthy automatic tool because we are sure that it has already erased all other threats for you too.