Do you know what Work-Bar.biz is?
Work-Bar.biz is a website promoting the browser extension called Work-Bar. It is, in fact, not the only source this extension can be downloaded from. Users can also get it from the Chrome Web Store (chrome.google.com/webstore/detail/work-bar/hofngijjpilmembpgefopjcfiimkdkhi). On top of that, it might sneak onto the computer bundled with free applications. No matter where you get this piece of software from, it acts the same in all the cases. Once the Work-Bar.biz extension is installed, users notice a new homepage with the URL chrome-extension://hofngijjpilmembpgefopjcfiimkdkhi/newtab.html at the top. Users install this application to be able to personalize their Google Chrome browsers. Unfortunately, they do not know that they could only change the background color of the homepage set by the Work-Bar.biz extension. Of course, our research team does not say that users should delete this extension from their Google Chrome browsers just because it sets a new homepage and it is not as beneficial as it claims to be. To be frank, it has more serious drawbacks as well. Continue reading to find out more about them. This knowledge should help you to decide whether or not to let the Work-Bar.biz extension stay on the computer.
A new homepage set by the Work-Bar.biz browser extension looks like an ordinary website; however, even though it seems to be quite decent, it has been found that it might cause trouble. Researchers say that users might be provided with advertisements and/or promotional links if they enter a search query in the box they find on the homepage. Users are provided with the commercial content because the developer of the Work-Bar.biz, most probably, gets money for driving traffic to third-party websites. Theoretically, a link leading to an untrustworthy website promoting malicious software might be shown to users as well. It means that this browser extension might be quite dangerous as well. There is another drawback too. This piece of software actively gathers information about users. It has been found that two types of information are recorded: anonymous user information and individual user information. A number of different applications record the so-called anonymous user information which consists of IP address, browser and platform type, search terms, and links clicked on, so specialists do not say that a program is necessarily bad if it records these details. The fact that the individual user information is recorded is definitely more disturbing. It is because this information might help to "identify you personally." If this piece of information ends up in the hands of bad people, your privacy might be violated. Therefore, in the opinion of our specialists, it would be best to get rid of the Work-Bar.biz extension. Since it is not as beneficial as it claims to be, you will definitely not regret eliminating it.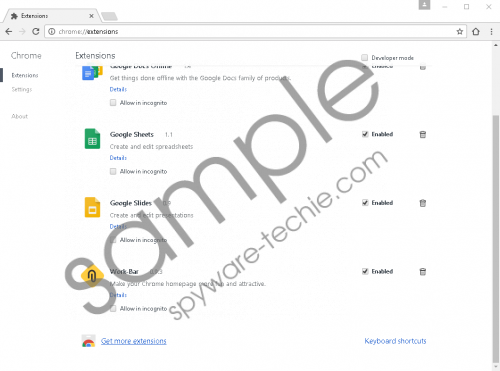 Work-Bar.biz screenshot
Scroll down for full removal instructions
As has already been mentioned, the extension responsible for changing your homepage can be downloaded from Work-Bar.biz or the Chrome Web Store. Also, researchers believe that it might sneak onto the computer together with free applications as well. Users are the ones responsible for allowing it to enter their computers because they do not pay much attention to the installation window when installing new software. Also, many people do not have a security application installed on their computers. Go to get a security tool if you feel that you could not prevent undesirable software from entering the computer in the future. Of course, it does not mean that you can be careless after doing that.
The Work-Bar.biz extension affects Google Chrome browsers only, so you can erase it quickly. All you need to do to undo all the changes it has made is to remove the Work-Bar extension through the Add-ons Manager. Find instructions below – they will help you.
Delete Work-Bar.biz
Google Chrome
Open your browser.
Click the button in the top-right corner.
Select More tools.
Click Extensions.
Select the untrustworthy browser extension.
Click the Recycle bin button.
Click Remove.
In non-techie terms:
Many applications these days pretend to be very beneficial to get onto users' computers. It seems that the Work-Bar extension developed by Via Advertising Group Limited is one of them, so if changes are ever made on your browser by it, it would be smart to delete the extension from there. If you wonder why, read this article and all your questions will be answered.