Do you know what Words-Surf is?
Words-Surf is an application that is supposed to find the matching lyrics to the YouTube music video you want to watch and display it alongside, but our researchers have categorized this software an adware application -- and there are reasons for that decision. This adware may annoy you by littering your computer screen with useless and potentially unreliable third-party advertisements, most likely pop-ups. These ads might also hold risks for you that could result in more infections attacking your operating system, to say the least. What's more, it is likely that this adware does not come alone on-board, but brings along a bunch of other malware threats. This situation may cause enough system security problems for you that it may be too much for you to handle manually. That is why the earlier you remove Words-Surf, the better. But you cannot leave any of the related threats on-board, so you will have to tackle them as well. For the details, please continue reading our report.
Even though this application promises lyrics to your favorite music videos, it is more likely to start spamming your computer screen with potentially dangerous advertisements. What can be "dangerous" in an ad? Well, for example, that the third party behind it is not a reviewed affiliate, so it can easily be any schemer or cyber criminal. These people might exploit this adware and send compromised ads that link to infected websites. Criminals have lots of ways to trick you; there is no doubt about that.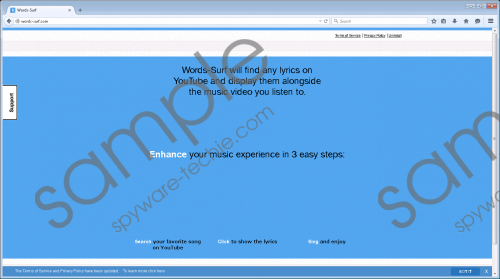 Words-Surf screenshot
Scroll down for full removal instructions
It is possible to land on a fake online shop, for example, where you could be scammed to reveal your personal information. But you can also be tricked into downloading some shady software updater that actually contains malicious software. Schemers use misleading scare techniques, for instance, in order to draw your attention to a download button and make sure you click on it, too. This can be a flashing red sign that warns you about your system being out of date or that there are some errors on your system that need your immediate attention. And the list goes on. You should delete Words-Surf if you plan to avoid such unlucky scenarios.
This worthless application has an equally worthless and simple webpage at words-surf.com. Apart from a few lines of promotional text and some legal documents, you cannot find anything on it – not even a download button. So, how do the publishers of this application want to spread their "beloved child" over the Internet? The truth is that this adware is no different from other ad-supported applications that are usually distributed via free software bundling. However, these bundles may be packed with other malware infections as well. Imagine downloading such a package and allowing a number of threats onto your unprotected Windows operating system. Does that sound scary enough? Do you need more reasons to remove Words-Surf from your PC?
So here is what you need to do if you want to manually take care of this adware infection. Locate the uninstaller via Control Panel and simply uninstall it. Can it be any easier? If you have never uninstalled applications this way, please use our guide below to assist you with the steps. Please remember that you can help protect your computer if you are careful with your choice of websites you visit and the advertisements you click on. A lot of malware infections come from landing on questionable websites and clicking on banner ads or pop-up ads. If you have any questions regarding Words-Surf, please leave us a comment below.
Words-Surf Removal from Windows
Windows 8, Windows 8.1, and Windows 10
Tap Win+I and go to Control Panel.
Open Uninstall a program.
Click on the program and press Uninstall.
Windows Vista and Windows 7
Press Win+R and enter control panel. Press OK.
Access Uninstall a program.
Click on the program and press Uninstall.
Windows XP
Click the Start button and choose Control Panel.
Select Add or Remove Programs.
Click on the program and press Remove.
In non-techie terms:
Words-Surf is a useless ad-supported program that might put your operating system at risk by showing you potentially unreliable third-party advertisements. Clicking on those ads might result in landing on unsafe websites that may be run by criminals. This adware may also come on-board with other malware programs that can increase the vulnerability of your system. That is why we suggest that you remove Words-Surf and the related infections as well.