Do you know what WordExtra is?
WordExtra may seem like a great upgrade to your web browser; however, this browser extension is unlikely to be useful. According to the information on wordextra.com, the application has been created to help you look up the meaning of different words in an easy manner. However, these services may be interrupted by online advertisements. If you do not delete WordExtra from the PC, you are bound to face different offers and suggestions. Even though this activity is presented on wordextra.com as harmless and unobtrusive, our malware researchers suggest that you have to stay cautious, especially with the ads presented by unfamiliar parties. Continue with the report to learn all about the removal process.
If you have researched different computer applications in the past, you must know that many of them choose the financial support of third-party advertisers. Software developers promote the services of affiliate parties to generate profit which is used for further product development and maintenance. Unfortunately, not all companies are affiliated to transparent and reputable advertisers. We suggest having WordExtra removed because this advertisement-supported program is affiliated to parties which are questionable. It appears that WordExtra is very similar to CoupAlerter, and this is another adware you may need to delete. You have to be most cautious about WordExtra ads if the program has been installed silently bundled with other suspicious programs that may require removal. Keep in mind that disturbing, even corrupted ads may belong to additionally installed adware. Of course, you should delete unfamiliar programs if they have been installed without permission.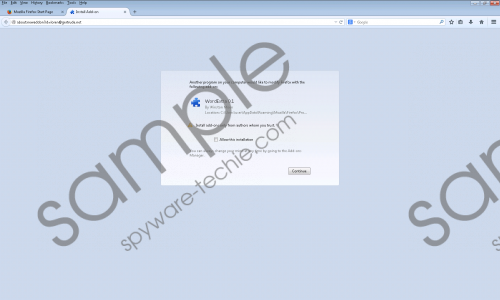 WordExtra screenshot
Scroll down for full removal instructions
Computer users running WordExtra may discover spam emails promoting different advertisements, suspicious surveys often collecting private information, and disturbing banner/pop-up ads hiding links to random sites. Even though suggestions and ads related to adware may be harmless, they could be highly misleading as well. Due to this, we believe that it would be best to remove WordExtra. Well, how do you choose to perform the removal of this adware? If you are up for a challenge and you have the right skills, you can delete the advertisement-supported program and affiliated software manually. The instructions below are the first step in the complicated manual removal operation. Of course, the automatic removal option is more secure and beneficial, considering that it can ensure successful removal and reinstate Windows security simultaneously.
How to delete WordExtra?
Delete from Windows XP:
Click Start on the Taskbar, go to Control Panel and select Add or Remove Programs.
Now select the undesirable application and click the Remove button linked to it.
Delete from Windows Vista & Windows 7:
Click the Windows icon on the Taskbar, select Control Panel and then Uninstall a program.
Right-click the application you wish to remove from the operating system and click Uninstall.
Delete from Windows 8:
Right-click on the Metro UI screen to open a pane and click All apps.
Open then Control Panel and in the menu select Uninstall a program.
Double-click the program you have chosen to remove and select Uninstall.
N.B. The instructions above will not remove the extension from Mozilla Firefox. Complete the guides and then perform these additional steps.
Delete from Mozilla Firefox:
Launch the browser and simultaneously tap Ctrl+Shift+A.
As the Add-ons Manager menu shows up in the new tab click Extensions.
Remove the undesirable browser and extension and restart the browser.
In non-techie terms:
WordExtra is a browser add-on we recommend having removed. The application is meant to present useful services; however, what computer users need to beware of is the online advertising. Make sure you do not click on any suspicious ads before thinking the action through. Keep in mind that some of the offers may be presented by unreliable parties. Delete WordExtra from the PC using automatic malware removal software or perform the operation yourself manually.