Do you know what WordAnchor is?
It is unfair to call WordAnchor a malicious threat, but there is no doubt that this application is not as reliable as you might think it is. Even though this application is supposed to enhance your browsing ability, in reality, it was created to promote the products of the affiliate parties. This would not be that terrible if you were introduced to these parties. Unfortunately, the affiliates of WordAnchor are unknown, which is why it is necessary to consider the risk of facing unreliable parties. In the worst case scenario, these parties will introduce you to highly malicious links, and this is what you need to avoid. The easiest way to do that is to delete WordAnchor.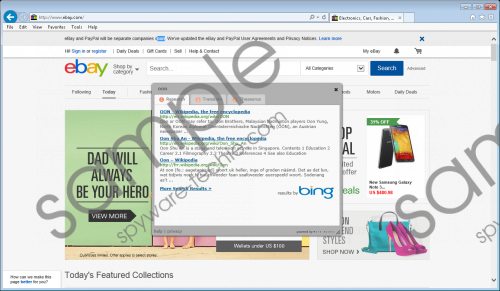 WordAnchor screenshot
Scroll down for full removal instructions
Removing WordAnchor might seem like a waste of time if you have already found this program to be beneficial. It is possible that the advertisements displayed by this programs, as well as other services, will help you in one way or another, but you must not forget about the risks associated with this ad-supported software (adware). Just like QuickSurf and other identical programs that we advise removing, WordAnchor can show misleading surveys, prize giveaways, pop-ups, and other types of ads just to trick you into clicking on links routing to malicious sites. This is the risk that follows all advertisement-supported programs, and you must know that WordAnchor is ad-supported if you have downloaded it from wordanchorapp.com. All of this might be news to you if you have downloaded this adware from a third-party software distributor. This distributor might have given you little or no information about the program and its activity. All in all, the ads injected are the primary motive to remove WordAnchor.
The removal of advertisement-supported software is difficult to predict. Some ad-supported programs are easy to delete, and others might set up obstacles. After you uninstall WordAnchor using the removal guide below, install a malware scanner to find out if you were successful. If other threats exist, remove them as well. Note that authentic security software can automatically delete all malicious infections. If you install this software, you will not need to worry about the removal of WordAnchor or the security of your operating system. If you do not install this software, your virtual security will remain vulnerable, which means that other infections could attack soon enough. Make sure you install reliable software and update it in time to gain the most reliable protection.
Delete WordAnchor from Windows
Delete from Windows XP
Move to the left of the Taskbar and click Start.
Open the Control Panel menu.
Double-click Add or Remove Programs.
Move to Change or Remove Programs.
Click the undesirable app and select Remove.
Delete from Windows Vista and Windows 7
Click the Windows icon on the Taskbar.
Open Control Panel and move to Programs.
Select Uninstall a program.
Right-click the undesirable application.
Click Uninstall to remove this application.
Delete from Windows 8 and Windows 8.1
Simultaneously tap Win+R to launch RUN.
Type in Control Panel and click OK.
Go to Programs and select Uninstall a program.
Right-click the undesirable application.
Click Uninstall to remove this application.
In non-techie terms:
WordAnchor should help you browse the web, but this program is only helpful to its creators, who are likely to earn money for every advertisement that you click on. The problem is that the ads injected by this adware are unpredictable, and interacting with them might lead to various security issues. We suggest removing WordAnchor from your browsers as soon as you find it installed on your PC. Hopefully, you will learn from your mistakes and will not install unreliable programs in the future, but we advise using reliable security software to help you keep malware away.