Do you know what Wooden Seal is?
You might be offered to download Wooden Seal when installing software bundles. If you have the chance, you need to decline the offer and carefully assess all other programs presented by the same installer. Wooden Seal is an unreliable advertisement-supported program, and no one should use it on their operating systems. Have you already installed this adware? If you have, you need to remove it from your operating system as soon as possible. Do not worry if you don't know how to delete Wooden Seal from your PC, because we have found a way.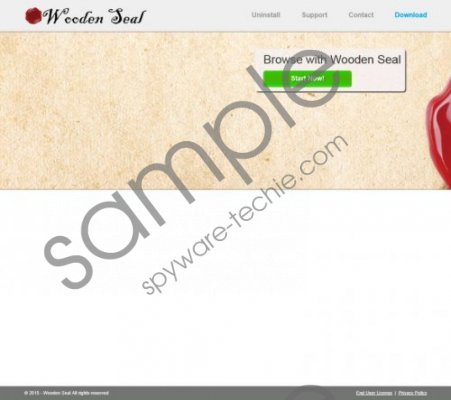 Wooden Seal screenshot
Scroll down for full removal instructions
We are certain that you have not installed Wooden Seal from woodenseal.com, because the installation of this adware is not initiated by clicking the Start Now! button found on this site. Instead, this app is spread by third-party software distributors who might bundle it with much more dangerous and clandestine infections that, of course, deserve removal. Even though the developer (SuperWeb LLC) of Wooden Seal is not known for distributing malware, you cannot be sure about the infections that could be carried together with this adware. Fragile Fixer, Wild West, Air Globe, and all other SuperWeb applications could be distributed with malware as well, which is why, after deleting them, users have to scan their operating systems to find out which other threats they need to remove. Is it clear why you need to remove Wooden Seal or its clones? These programs install intrusive tracking cookies, contact unfamiliar servers and enable them to display ads, and open up backdoors to unfamiliar sites. This is enough for most users to precipitate the removal of the suspicious Wooden Seal.
Most users choose between two popular removal options. Some users decide to remove Wooden Seal manually, which is not something we recommend if other threats are involved. Others choose to install automatic malware removal software, and this is a foolproof option. If you install reliable software, it will remove Wooden Seal without any trouble. In addition, all other threats will be deleted alongside, and your operating system will gain the protection it needs.
Delete Wooden Seal from Windows
Delete from Windows XP
Open the Start menu.
Select Control Panel and move to Add or Remove Programs.
Click the undesirable toolbar and select Remove.
Delete from Windows Vista/Windows 7
Open the Start menu and click Control Panel.
Move to Uninstall a program.
Right-click the application you want to remove and choose Uninstall.
Delete from Windows 8/Windows 8.1
Access the Charm bar from the Metro UI screen and click Search.
Open Control Panel and move to Uninstall a program.
Right-click the application you want to remove and click Uninstall.
In non-techie terms:
Wooden Seal can be presented as a highly beneficial program, but it is just another adware application that you need to delete from your operating system. If you don't perform the removal, you will encounter advertisements that could link you to all kinds of websites, including the corrupted ones that cyber criminals could use to spread malware. Do you want to avoid this risk? If you do, remove Wooden Seal from your PC and reinforce your system's security. You can combine the two tasks by installing reliable automated malware removal software.