Do you know what WonderBrowse is?
WonderBrowse is a browser add-on which is presented as a very useful tool that can enhance your browsing experience. The application is said to generate coupons, provide you with website ratings and review, in-line advertisements, and other information which is supposed to ease your browsing sessions. However, malware researchers have found that the advertisements generated by WonderBrowse are very obtrusive because they are generated basically on every website. The application works on Internet Explorer, Google Chrome, and Mozilla Firefox, so if you want to get rid of those ads, you have to uninstall the program manually or remove it with the help of a spyware removal tool.
WonderBrowse monitors the user's actions on the Internet and also records information of the hardware and software. For example, it reads your browsing history, records your search terms, clicks, and preferences. It also collects information about your operating system and internet browsers. All the information is used for advertising and marketing purposes, so if you find some advertisements that are related to your interests, it means that the information collected by WonderBrowse has already been used for making customized advertisements.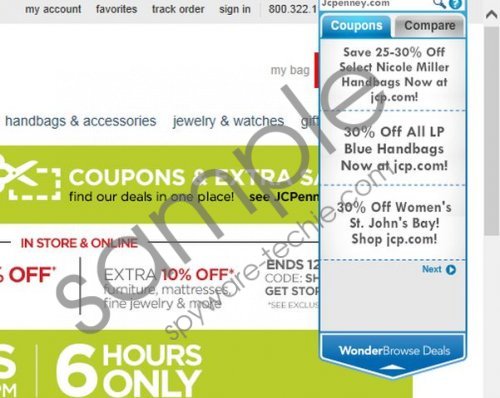 WonderBrowse screenshot
Scroll down for full removal instructions
You must have noticed that web-banners and coupons displayed by WonderBrowse may have nothing in common with your search terms. This is so because the application is supported by different advertisers which seek to drive more traffic to their websites. If you do not want to be taken to third-party websites when browsing through some famous shopping website, remove WonderBrowse from the computer right now.
It has also been found that in addition to coupons, special offers, other ads, WonderBrowse can display a side bar in order to offer you some search terms. They appear on a particular websites, but when you click on one of the options, you may be taken to contenko.com, a search engine which provides computer users with suspicious search hits.
In order to remove WonderBrowse from the system, either follow the instructions provided below or implement SpyHunter, which will remove the unwanted application in no time. We recommend that you choose the latter option because manual removal may be insufficient. During the so-called manual removal when you uninstall the program, some files may remain within the system, so you may still find some advertisements or be monitored by particular components of the browser add-on. The recommended anti-spyware application will fully remove WonderBrowse from the PC, so do not hesitate to implement it.
How to remove WonderBrowse
Windows Vista and Windows 7
Open the Start menu and click Control Panel.
Select Uninstall a program.
Remove WonderBrowse.
Windows XP
Open the Start menu.
Click Control Panel.
Select Add or Remove Programs.
Uninstall WonderBrowse.
Windows 8
Press the Windows key to get to the Start menu.
Start typing control panel.
Click the Control Panel icon and select the Uninstall a program option.
Remove the unwanted application.
In non-techie terms:
WonderBrowser is a browser add-on which generates various coupons, web banners, and other pop-up content to enhance your browsing experiences. If you have installed the application accidentally and want to get rid of those annoying ads, remove the application from the system as soon as you can.
Aliases: Wonder Browser.