Do you know what wlojul@secmail.pro Ransomware is?
Finding out that wlojul@secmail.pro Ransomware has infected your system could be a sign that your computer is not properly protected and it can also serve as a good lesson to keep a backup of your files. Normally, such a dangerous malware infection can encrypt your files beyond the possibility of repair and extort money from you for the decryption key or tool. While this is exactly what this ransomware infection does, too, in this case, our researchers have found a way to decrypt your files right after this malicious attack. Therefore, you do not even need to consider paying any money. As a matter of fact, we would never advise you to pay anyway since it is always risky to even contact such cyber criminals, let alone give them your money. Once you follow our guide below, you can relatively simply remove wlojul@secmail.pro Ransomware from your computer. Please read our full article though to learn more about how you can avoid similar dangers in the future.
There are basically two main channels through which you can infect your computer with this malware threat. First of all, you may open a spam email that contains a malicious attachment. If you click to see this attached file, you can initiate this malicious attack and get your files encrypted in no time really; at least, you will not have enough time to react or to abort the encryption even if you could notice it happening in the background. This is why you need to be very cautious with your emails. It is best not to open any mail that seems questionable for you or you suspect that it does not personally concern you. What could be more important, you should never click on an attachment that comes with a mail you have doubts about. As you can see, you can easily get your files encrypted in no time and you cannot even save them from encryption by the time you manage to delete wlojul@secmail.pro Ransomware. You are only lucky that this time you can actually use our removal guide to restore your files and eliminate this dangerous threat as well.
Another way you can infect your system with this ransomware program is to have an unsecurely configured remote desktop application like TeamViewer. If you use a weak password, for instance, cyber criminals can easily hack it and break in to your system. Once they gain access, it is only a matter of minutes for them to set up and run this vicious attack. In other words, you would not even see this coming. In order to avoid such malicious attacks, you need to use strong passwords and also protect your computer with a reputable up-to-date anti-malware program. Right now, what you can do is delete wlojul@secmail.pro Ransomware from your system.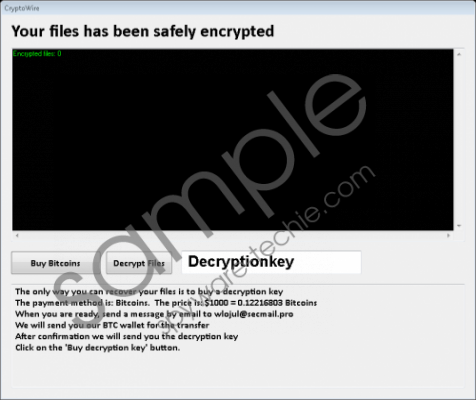 wlojul@secmail.pro Ransomware screenshot
Scroll down for full removal instructions
This malware infection adds a ".encrypted" extension to your file names; so, if you find files like "my_image.jpg.encrypted," you can be quite sure you have been hit by a ransomware program. You may not be able to identify this particular threat right away since this extension has been used by a number of other ransomware infections as well. This threat displays its ransom note window with the list of encrypted files. You are supposed to send and email to these criminals (wlojul@secmail.pro) to get the details about the payment, such as the Bitcoin address. Strangely enough though, we have not found any address associated with this attack. You are supposed to transfer $1,000 in Bitcoins but, fortunately, you will not need to do so. We are here to inform you that you can easily recover your encrypted files by entering "VgjRPoOM0oa92_jId!/wkMeW6,guuSe" code into the Decryption Key box and pressing the Decrypt Files button. Then, you can remove wlojul@secmail.pro Ransomware or whatever is left of it on your system.
It seems that this ransomware actually deletes itself after you use the above decryption code. However, there could be some leftovers so you had better follow our instructions below to make sure you eliminate all possibly associated malicious files. If you want to protect your PC from future attacks, we believe it is best to install a trustworthy anti-malware program, such as SpyHunter. Do not forget to update all your programs regularly so that you can avoid serious breaches and cyber attacks.
Remove wlojul@secmail.pro Ransomware from Windows
Enter or copy and paste "VgjRPoOM0oa92_jId!/wkMeW6,guuSe" without the quotes in the Decryption key box.
Click Decrypt Files.
When the decryption is over, tap Win+E to open the File Explorer.
Locate and delete all suspicious executable files you have saved recently.
Empty your Recycle Bin.
Reboot your system.
In non-techie terms:
If your computer is infected with wlojul@secmail.pro Ransomware, your personal files may have been encrypted and rendered inaccessible. However, you do not need to panic this time because our researchers have found a solution for you to recover your files easily and for free, too. You may have infected your computer with this dangerous threat when you opened a spam email and ran its attachment, or if you have a remote desktop application installed on your PC and it is not properly configured. These cyber criminals demand as much as $1,000 in Bitcoins to be paid for you to get the decryption key. But you do not need to rush to buy Bitcoins this time since we have this key for you. So after you apply the key and decrypt your files, you can remove wlojul@secmail.pro Ransomware from your PC right away. If you would like to make sure that no malware infection manages to slither onto your system anymore in the future, you should probably protect it by installing a decent anti-malware program.