Do you know what Wizzscreenmode is?
Although it might look beneficial, we classify Wizzscreenmode as an advertising-supported program. If you download this program, it will inject advertisements whenever you browse online, and this is what has brought it to our attention. Have you seen advertisements associated with this program? If you have, have you interacted with them? Hopefully, you have not, because there is a great risk of facing unreliable parties. As you might have guessed already, this is the reason we advise our readers to delete Wizzscreenmode from their computers. Even if you are not fazed by the ads popping up left and right, you need to consider the fact that this program is useless, and there is no reason why you should postpone its removal. If you are curious about this adware, and you are not exactly sure why you need to eliminate it from your PC, continue reading.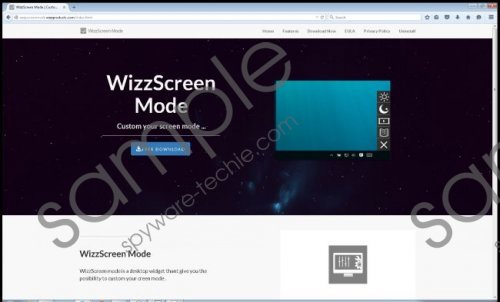 Wizzscreenmode screenshot
Scroll down for full removal instructions
According to our researchers, Wizzscreenmode is associated with Sound+ and Space Sound Pro potentially unwanted programs. However, this adware is more similar to WizzWiFiHotspot and WizzAppChecker, ad-supported programs that are promoted via the same website, wizzproducts.com. This website was set up by Wizzlabs, and, at the moment, it promotes three products, two of which cost money. The good news is that you are not required to pay any money for Wizzscreenmode. Well, this adware does not deserve your money because it is useless. Although this program supposedly proposes many different screen modes to customize your screen, it does not work very well, and it crashes constantly. It is unlikely that this program would provide you with beneficial tools even if it worked, which is a great reason to delete it from your computer. Of course, we are discussing this adware because we believe that it could be a threat to your virtual security.
The Privacy Policy document available at wizzscreenmode.wizzproducts.com/Privacy.html reveals that this ad-supported program can showcase "third party products or services." Despite working with these parties, the creator of adware does not take responsibility or liability for the content shown to you. Because parties associated with this adware are not disclosed, we doubt they can be trusted. Unfortunately, it is possible that malicious parties will showcase their offers using this program. In the worst case scenario, misleading and corrupted ads will be shown to you, and interacting with them can be extremely dangerous. If you have already, you need to reinforce your virtual security and keep an eye on your social networking accounts, as well as email to check for suspicious activity. We also recommend updating your passwords to avoid hijacking. You have to take all security measures to avoid all kinds of security issues because we can only predict what kind of malware might slither into your computer.
Even if you are sure that additional threats have not entered your computer after interacting with the ads shown by Wizzscreenmode, malware might exist. Our research team has found that bundled installers carry this adware along with other threats, and these threats might be more aggressive and dangerous. An automated malware detection and removal tool can help you erase all existing infections. If you decide to clean your PC manually, you have to be very careful and meticulous. In some cases, one malicious file that evades removal can cause more damage than you think. If you believe you are ready to delete malicious software manually, start by removing Wizzscreenmode.
Delete Wizzscreenmode from Windows
Windows XP
Open the Start menu from the Taskbar and click Control Panel.
In the Control Panel menu double-click Add or Remove Programs.
Select the application you want to get rid of and click the Remove button.
Windows Vista/Windows 7
Move to the Taskbar and click the Windows logo to open a menu.
Select Control Panel, move to Programs, and click Uninstall a program.
Right-click the program you wish to eliminate and select Uninstall.
Windows 8/Windows 10
Launch RUN (simultaneously tap Win+R keys) and open Control Panel.
Move to the Programs menu and open the Uninstall a program menu.
Right-click the application you wish to eliminate and choose Uninstall.
In non-techie terms:
Wizzscreenmode is not the program that can be trusted. It is not even beneficial. Therefore, instead of keeping it on your PC, we recommend removing it right away. If you do not eliminate this adware from your Windows operating system, you can expect ads to show up when you browse the web. As you know, some of these advertisements can be misleading, which is why clicking on them is considered risky and dangerous. If you want to evade all potential security issues, remove this adware ASAP. Although it is very easy to uninstall this ad-supported program, we suggest implementing anti-malware software to clean your PC automatically because other threats are likely to be active. Have questions? Start a discussion below.