Do you know what WizzAppChecker is?
WizzAppChecker comes forth as an application that can protect your computer from potential harm while you surf the Internet. Unfortunately, our research shows that this application is just an adware program that has been created to bring financial profit for its developers. The application does not deliver what it promises, and if you are not careful about it, you may be exposed to the potentially harmful content. Therefore, it would be for the best to remove WizzAppChecker from your system. The removal process itself is not complicated, but if you think there might be more unwanted applications on-board, perhaps you should resort to using a professional anti-spyware tool.
The reason we mention other potential threats here is that such adware applications often travel in packs. We make it sound like they are a horde of gnu stampeding through the vast spaces of the Internet, but the actual picture is not as imposing. The point is that WizzAppChecker could come bundled with other freeware applications, especially if you often download programs from file-sharing websites. If you must download a new application, make sure that you get it from the official vendor's website. Otherwise, there is a good chance that the program you download will come with additional apps you neither need nor want.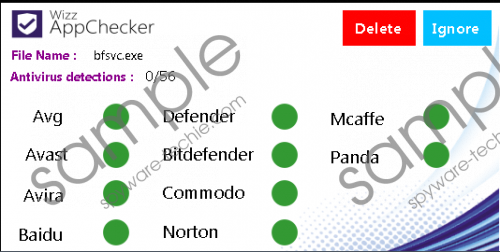 WizzAppChecker screenshot
Scroll down for full removal instructions
Is it possible to avoid installing such adware applications? Usually, it is possible to deselect the additional programs during the installation process. However, quite a few users tend to skip these additional setup steps in favor if a swift installation. As a result, WizzAppChecker and other similar programs manage to get installed on target systems. That is also the reason users often do not understand how potentially unwanted applications managed to get into their computers. However, the point is that you have installed these applications yourself, and none of the programs entered your PC surreptitiously.
The good news is that we know exactly what to expect of this application because it comes from the Wizzlabs family, and we have encountered similar intruders before. WizzAppChecker is very similar to WizzWifiHotspot and Wizzscreenmode. All these programs have official websites, and it is possible to download the applications directly. For example, the direct download link in wizzappchecker.wizzproducts.com, works just fine.
As mentioned above, the main function of the application should be protecting you from malicious attacks on the Internet, but the program does not work that way. Instead, it displays a lot of commercial advertisements that may contain malicious third-party content. Truth be told, the application itself cannot be held responsible for any negative consequences of clicking the commercial pop-up ads. In its Privacy Policy, the program states that "we may include or offer third party products or services on our websites or applications. These third party sites have separate and independent privacy policies. We therefore have no responsibility or liability for the content and activities of these linked sites."
Although malicious infection is just an extreme consequence of adware infiltration, one should not rule that out. Cyber criminals could easily make use of WizzAppChecker to promote their websites or programs. So it is very important that you do not click random pop-ups that appear on your screen out of nowhere. If you notice that you are being assaulted by annoying commercial ads, you should run a full system scan with a reliable antispyware application.
A full system scan will help you determine whether you have multiple threats on your computer, and you will be able to remove them on time. The same should be applied to WizzAppChecker, as well. Follow the instructions below to uninstall the application from your computer.
If you think that this program might have entered your PC with some other unwanted application, do everything you can to detect it and delete it for good. Your best option, in this case, would be investing in a computer security program of your choice.
Should you need any assistance with adware removal, do not hesitate to contact us by leaving a comment below this description. Our support team will be ready to help. Also, please keep in mind that safe web browsing skills are necessary in order to avoid similar issues in the future.
How to Delete WizzAppChecker
Windows 10 & Windows 8
Press Win+R and the Run prompt will open.
Type Control Panel into the Open box and click OK.
Select Uninstall a program and remove the unwanted application.
Windows Vista & Windows 7
Open the Start menu and click Control Panel.
Go to Uninstall a program and remove the adware application.
Windows XP
Click the Start menu button and go to Control Panel.
Open Add or remove programs and uninstall the adware application.
In non-techie terms:
WizzAppChecker may look like one of those useful applications that may improve your computer performance, but that is very far from the truth. Not only does this program fail to live up to its expectations, it also exposes users to a variety of third-party content, most of which could prove to be dangerous. You will do yourself a favor if you remove this program from your computer as soon as possible.