Do you know what Wizesearch.com is?
Wizesearch.com is just another browser hijacker that targets Google Chrome users. It changes your browser settings so that you would have to use the search engine. Unfortunately, as you search through Wizesearch.com, it might display not only results but also third-party advertisements. Probably, every time you click an ad, the hijacker's creators could receive advertising revenue. Sadly, every time you interact with third-party advertisements there is a chance that you could be redirected to a malicious website. If malicious software is not something that you would like to encounter while surfing the Internet, we advise you not to take any chances with the browser hijacker. Consequently, our researchers prepared a removal guide that would help users get rid of the application. Nonetheless, if you still cannot decide what is best for the system, continue reading the article and learn more about the threat.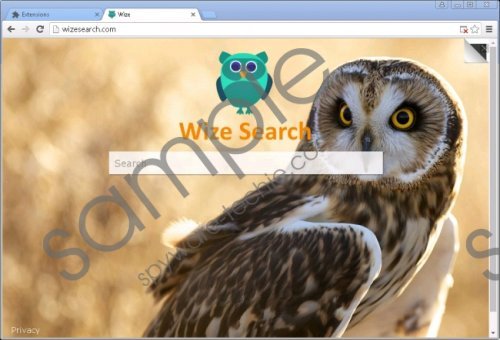 Wizesearch.com screenshot
Scroll down for full removal instructions
Our specialists have no doubt that Wizesearch.com could be spread bundled with other programs. For example, Wizesearch.com might travel with bundled installers that users may download from unreliable file-sharing web pages. When you launch a setup file, it is important to check if there are any suggestions of other software. If you see an offer, you should review provided terms of use for such application and search for more information about it on the Internet. However, the chances that the setup wizard would suggest you anything useful might be rather slim. Therefore, unless a program looks like something you cannot work without, you should reject it.
Furthermore, to receive the hijacker, users have to install a browser extension titled as Wize Search. The add-on is what sets Wizesearch.com as user's homepage or new tab page. The site has a logo with an animated owl and also a real owl in the background. In the middle, there is a search box and on the bottom-left corner, you can see a link to the software's Privacy Policy. As for the End User License Agreement document, it does not seem that it exists.
Our specialists learned that once you type a keyword and click Enter, the browser hijacker uses yahoo.com to collect the results, but it modifies them in the feed.wizesearch.com server. As a consequence, the results you receive might include third-party ads, sponsored links, and so on. According to the application's Privacy Policy, the advertising content should come from web pages of software's third-party partners, sponsors, advertisers, suppliers, and so on.
The bad news is that the ads could be potentially harmful, and the application's creators do not take any responsibility if anything goes wrong on third-party websites. Therefore, if you enter a site that has malicious content, such as Trojans, viruses, ransomware, and other malware you will be solely responsible for consequences. In fact, there are other risks as well, e.g. users could enter a site that promotes other browser hijackers, potentially unwanted programs, adware, etc. Thus, if you are planning to use Wizesearch.com, it might be better to take some time to consider these risks. However, it seems to use that the browser hijacker in not worth your trust, it would be safer and easier to replace it with a reputable search engine.
As you see, the removal guide below shows you how to erase the browser hijacker's extension from Google Chrome. Once you delete it, you should replace the search engine with preferred homepage website through browser settings. On the other hand, users could eliminate it with a trustworthy antimalware tool as well. Additionally, the security tool would help users clean the system from other possible threats. If you would like to try it, you should install the tool and set it to scan the computer. Later, check the report and click the removal button.
Erase Wizesearch.com from Google Chrome
Press ALT+F and select Settings.
Choose More tools and click on Extensions.
Find Wize Search extension.
Press the trash bin button near it.
Click Remove.
In non-techie terms:
Wizesearch.com might not look dangerous because of its fun appearance, but our researchers want to warn users about possible risks that may result from its usage. The application might show you altered results that could have injected third-party advertisements. If you click this content, you may land on malicious web pages that could contain various infections. That is why we advise users to eliminate the browser hijacker manually with the instructions placed above or delete it with a reliable antimalware tool.