Do you know what Wisen Wizard is?
Wisen Wizard is an adware program. It may display various types of commercial advertisements, be it personalized pop-ups, coupons or online shopping deal offers. Whichever way it might be, you need to remove Wisen Wizard from your computer, because the presence of an adware application in your system may signify a potential threat. For manual Wisen Wizard removal instructions, scroll down to the bottom of this article. It is also highly possible that there are other potentially unwanted programs on your computer which you must remove as well.
If you see Wisen Wizard extension installed on your browser, chances are that this application has arrived bundled with freeware. It is known to come bundled with Desk365, AwesomeHP, Bubble Dock and other applications that are available for download at third party file hosting pages. For the most part, during the installation process users are able to decide whether they want to install additional software applications such as Wisen Wizard or not. However, it is very seldom that users are attentive enough to check all the software installation steps. What is more, in AwesomeHP's case, it is a browser hijacker, so this application does not even inform you about the oncoming system and browser modifications.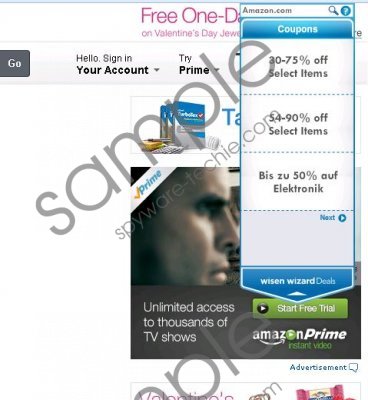 Wisen Wizard screenshot
Scroll down for full removal instructions
Unlike other legal applications, you would not be able to download Wisen Wizard at wisenwizard.net. There is an entire list of such programs, including Cling Clang, Surftastic, Bizzy Bolt and many others. The website informs you that Wisen Wizard is a useful browser extension that can improve your overall web browsing experience, but the download link does not work. Hence, the main method of Wisen Wizard distribution is bundled downloads, and for the most part users do not even notice that the application enters their computers (although they are the ones who initiate the entire process).
When the application is installed on your PC, the next time you open your web browser, you will notice various pop-ups appear out of nowhere. Most of the time, they will display personalized content, because Wisen Wizard collects information on your web browsing history to increase the possibility of you click the ads. Unfortunately, Wisen Wizard can also get exploited by malevolent third party for corrupted content distribution. Although malware infection is not a definite outcome of having an adware application on your computer, it is still a possibility and you should not ignore it.
Therefore, it is important that you uninstall Wisen Wizard from the PC immediately, and then scan the system with SpyHunter to ensure that there are not undesirable applications left.
Uninstall Wisen Wizard
Windows 8
Move mouse cursor to the bottom right of the screen.
Click Settings on Charm bar and go to Control Panel.
Select Uninstall a program and remove Wisen Wizard.
Windows Vista & Windows 7
Open Start menu and click Control Panel.
Go to Uninstall a program and remove Wisen Wizard.
Windows XP
Open Start menu and navigate to Control Panel.
Select Add or remove programs and uninstall Wisen Wizard.
In non-techie terms:
Wisen Wizard is a program that should not be allowed to remain on your computer. It is a program that can unintentionally expose you to dangerous cyber content. Therefore, it is for the best to remove Wisen Wizard from your computer right now.
Aliases: WisenWizard.